Message from the President
Message From The President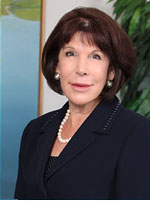 August 2013
Our remarkable students and their inspiring achievements continue to play a central role in further establishing Queensborough as a vibrant and academically rigorous institution of higher learning.
We can all take pride in alumna Jeewani Boteju '11, who has been selected as a 2013 Women's Forum Education Fund Fellow for her "superior qualifications, accomplishments and commitment to education." Originally from Sri Lanka, Ms. Boteju's dream to pursue a quality education led her to Queensborough, where her scholarly talent in mathematics thrived with the encouragement of our outstanding faculty and staff. Ms. Boteju is currently pursuing her baccalaureate degree in Mathematics Education at Queens College.
A continuing student, Chun Li, has also been named as a recipient of this prestigious award. Like Ms. Boteju, Ms. Li came to the U.S. from another country (China) with a goal to become a mathematics teacher. Ms. Li, an honor student, will graduate in December 2013 and continue her studies at Queens College.
Other student accomplishments come in the form of creating digital stories. Jillian Abbott, an adjunct instructor in the Department of English, is guiding students in the Student WIKI Interdisciplinary group--ongoing project, as part of the College's initiative to incorporate technology pedagogy into the classroom. Ms. Abbott, whose award-winning iBook textbook, Air Quality, was released this month, is helping students explore themes such as migration by combining composition skills with artistic elements in a video format. Student Jason Rampersad's digital story traces his journey from Trinidad to Queensborough. Mr. Rampersad said, "Interactive stories are uniquely emotional and evoke empathy for another person's personal experiences."
On the cultural enrichment side, emotions ran high during a historic event held on July 11 at the Kupferberg Holocaust Resource Center and Archives. Students in the Asian Social Justice Internship program, who had previously interviewed Korean Comfort Women survivors living in South Korea via Skype, met one of the survivors face to face—for the first time. It was a special evening of poignant stories and unforgettable moments.
I am extremely grateful to our extraordinary faculty mentors and staff who encourage students to pursue opportunities and to challenge themselves, so they may realize their full academic potential and career aspirations.
Warm regards,

Dr. Diane B. Call
President