Message from the President
Message From The President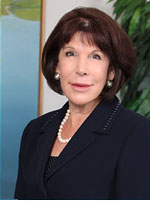 June 2014
With over 2000 2014 graduates successfully moving on to further their academic and professional pursuits, we have much to be proud of and much to look forward to at Queensborough.
Queensborough students in CUNY's Accelerated Study in Associate Programs (ASAP)—designed to accelerate degree completion within three years at community colleges—celebrated their degree completion on June 4. This year's ASAP class had 93 of its 113 students graduating in just two years with the remaining 20 students graduating by the end of the fall term. These excellent retention and graduation rates clearly point to the ongoing success of the program. ASAP will grow to serve 825 students at Queensborough for the 2014-15 academic year—nearly quadrupling the initial program cohort of students in 2007. Congratulations to the ASAP team, its director, Bobbi Brauer, and especially our ASAP graduates.
A completion ceremony was held for students in the Port of Entry program on June 2. The event included the presentation of awards, including the Thomas Chen Port of Entry Scholarship, to help offset the cost of tuition for this English language immersion program for recent immigrants who aspire to attend college.  Awards were presented to  Xue Ying Chen; Yun Chen; Yiming Li; Pierre Moise Pompee; Enshi Xu, Xiao Guang Zeng and Huiwei Zhou by  Mr. Thomas Chen, founder of Crystal Window & Doors Systems, Ltd. and scholarship sponsor. He encouraged the awardees to "treasure the skills they learned through the program and to pursue their academic and career dreams." Another student, Shu Li, received the Chun Ling Chu Endowed Scholarship, established in 2012 to help open doors for hard-working students who want to attend Queensborough.
Among the highlights of the academic year was the Nursing Department's biannual Candlelighting Ceremony held at the close of the fall and spring semesters. The spring ceremony, held on May 22, celebrated Queensborough's 37 nursing graduates which included 7 men—a full 22% of the graduating class. Additionally, I am delighted to share that a segment will air later this month on Queens Public Television's News Desk Series, featuring interviews with Professor Anne Marie Menendez, Chairperson of the Nursing Department, along with three of our excellent nursing graduates, Fan Jin; Stephanie Torres and Bradley Adams, a Veteran who aspires to be a missionary nurse.
In the faculty achievement arena, Dr. Clara Wajngurt's article on the "Prevention of Bullying on Campus" was published in the May-June issue of Academe. Dr. Wajngurt is a professor in the Department of Mathematics and Computer Science Department.
In other good news, Queensborough was awarded the CUNY Athletic Conference Commissioner's Cup for the strongest overall achievement by our men and women's teams. The CUNY Athletic Conference Community College Baseball All-Stars Pitcher of the Year was awarded to Tigers sophomore pitcher Matthew Brown. He was also nominated for All American. During his 2014 season with the Tigers, Matthew had an outstanding 13 strikeouts in 12 innings pitched.
On the cultural enrichment side, the Kupferberg Holocaust Resource Center and Archives exhibit, Cruel Correspondence: Anti-Semitic Postcards from 1895-1930, will be on display in the National Archives in Washington, D.C., beginning mid-July through October 2014. During the same period, a Hungarian version of this exhibit will be on display in the Jewish Museum in Budapest. Having this important exhibition shown here as well as translated and presented abroad is a welcome endorsement of the work we continue to accomplish at the Center.
Additionally, we look forward to the June 19 opening of internationally renowned photographer Robert Nickelsberg's Afghanistan: A Distant War, at the QCC Art Gallery. Mr. Nickelsberg, whose photographs have appeared in major publications around the world, captures both the brutality and beauty of this war torn country by presenting a portfolio of images that chronicle Afghanistan's tragic recent history and the nature of its cultural resilience. This exhibition will run from June 19 through September 10, 2014.
Let us continue with our efforts to provide all of our students with access to a world-class education that will inspire them to become leaders in scholarship and leaders in society.
Warm regards,

Dr. Diane B. Call
President