Message from the President
Message From The President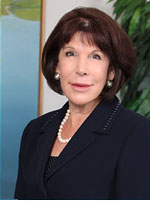 June 2013
Following our celebration of over 2000 graduates at our Fifty-Second Commencement Exercises, a ceremony was held in early June in honor of our outstanding spring and projected summer graduates in the Accelerated Studies in Associate Programs (ASAP). This program continues to produce community college graduates in two years at rates three times the national average!
Congratulations to twelve QCC students who are studying in Paris and traveling throughout France this summer through Study/Travel Opportunities for CUNY Students (STOCS). A STOCS awardee, Jessica Colon, is also a recipient of the Benjamin A. Gillman International Scholarship program for her compelling Study Abroad application essay. She strongly believes the opportunity will enrich her academic experience and career preparation through a deeper understanding of another language and culture. We are grateful to Dr. Federica Goldoni, Department of Foreign Languages and Literatures, for her work on this project as instructor, mentor, and group leader.
With pride, we recognize Dr. Paris Svoronos, Department of Chemistry, on his invitation to serve as a first round judge for the 2013 Carnegie/CASE U.S. Professors of the Year awards.  Each year, the Council for Advancement and Support of Education (CASE) honors faculty as outstanding professors in several categories, including community colleges, senior colleges, and graduate schools. Dr. Svoronos was the U.S. Outstanding Community College Professor in 2003.
On the cultural side, the QCC Art Gallery will feature an exhibit, New Light on Early Art Forms of the Indian Subcontinent, beginning June 27. The ancient, beautiful sculptures depict Indian deities representing Buddhism, Jain and the beginning of Hinduism.
The Holocaust Museum and Education Center of Southwest Florida in Naples will exhibit Sosua, The Dominican Republic: A Refuge from the Holocaust in the Tropics this June through July. This illustrates the growing influence of the work developed in our Kupferberg Holocaust Resource Center and Archives, under the direction of Executive Director, Dr. Arthur Flug.
I encourage you to visit our acclaimed cultural centers, created to stimulate ideas and intellectual curiosity.
It is intriguing to imagine the journeys in the weeks ahead for our recent graduates and current students, whether here or abroad. I look forward to hearing their stories of success so that I may continue to share them with you.
Warm regards,

Dr. Diane B. Call
President