Message from the President
Message From The President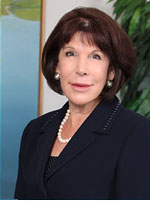 May 2013
With the close of the spring semester approaching, our community can reflect on a year of outstanding accomplishments by our students and faculty. At our 52nd commencement ceremony on May 31, we will celebrate the Class of 2013 and wish them luck as they embark on promising futures, and welcome back our alumni celebrating their 50th anniversary of graduation.
Ahead in the coming academic year, plans are underway to build on the successes of a Queensborough Community College innovation – the Freshman Academies. Since 2009, the Freshman Academies have offered every first-time, full-time student personalized academic and student support through their first two semesters. Beginning next fall, Queensborough will extend "The Academies" to all full-time degree students, serving them from admission to graduation! The Academies, a partnership between Academic Affairs and Student Affairs, will offer students a cohort experience centered on their fields of study – Business, Health Related Sciences, Liberal Arts (including Education and Criminal Justice), Science, Technology, Engineering and Mathematics (STEM), and Visual and Performing Arts. Such an environment nurtures intellectual growth and enrichment with the goal of increasing student retention and degree completion.
Congratulations to a 2013 graduate for winning the CUNY Community College Prize in the David A. Garfinkel Essay Contest, offered annually by the Historical Society of the New York Courts. Ruby Singh, a Business Administration major, won for her essay Cyberspace and the Law: What Are Our Rights and Responsibilities? Ruby was honored at the Law Day Ceremony at the Court of Appeals Hall in Albany, NY by the offices of Chief Judge Jonathan Lippman, Governor Andrew Cuomo, Attorney General Eric Schneiderman, and the Bench and Bar of New York. We also applaud six Queensborough students who received honorable mention for their essays – Husni Abdelqader, Kristi Diaz, Jeinson Espinosa, Beatrice LaViscount, Farah Naz and Sara Sahibzada – as well as their faculty mentors in the Department of Business –  Stephen Hammel, Adam Luedtke and Christine Mooney.
Alumna Jasmine Hatcher '06 was awarded a 2013 National Science Foundation Graduate Research Fellowship. Her selection was based on her "outstanding abilities and accomplishments, as well as her potential to contribute to strengthening the vitality of the United States science and engineering enterprise." Jasmine conducted research at QCC under the mentorship of chemistry professor Sharon Lall-Ramnarine.
I know our entire community of faculty, staff, students and supporters join me in celebrating the honors awarded to our students and alumni. We all take pride in our collective efforts to prepare students for productive futures and even greater achievements beyond Queensborough Community College.
Warm regards,

Dr. Diane B. Call
President