Message from the President
Message From The President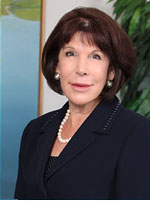 April 2014
One of the most anticipated events of the academic year is our Partners for Progress Gala, a wonderful opportunity for friends and CUNY colleagues to join our own faculty and staff in celebration of this institution.  All funds raised through our Gala support scholarships for QCC students, as well as for our educational resources and learning laboratories: the Kupferberg Holocaust Resource Center and Archives (KHRCA), the QCC Art Gallery, and the Queensborough Performing Arts Center (QPAC).Those who attend help us increase the number of students who receive scholarships to attend Queensborough and achieve their goal of a quality college education.
Our distinguished Gala Honoree and Alumni Partner of the Year is Barry L. Pulchin, Class of 1966, a Member and Director of Forensic Accounting and Valuation Services of Prager Metis CPAs, LLC.  Mr. Pulchin began his college career at Queensborough, where he earned his Associate Degree in Applied Science, and then went on to Baruch College where he obtained a Bachelor of Business Administration Degree in Public Accounting. As a current member of Queensborough's Alumni Association Cabinet, Mr. Pulchin diligently seeks funding for student scholarships and the Kupferberg Holocaust Resource Center & Archives (KHRCA).
I want to also extend a very special thank you to Professor Emeritus Jackson Lum and his wife Muriel, and to Professor Emeritus, the late Dr. Pak Kuen Wong.  Endowments have been established in each of their names to provide scholarships in perpetuity for students at Queensborough Community College.
Our Gala honors all of Queensborough's partners and celebrates our students, who come here to build a solid foundation before moving on to achieve greater things.
Eun Jung Shin, a second-year chemistry student, will be joining the 2014 Summer Hope Academic Research Program (SHARP) at Hope College in Michigan where she will research photochemical reactions of colored compounds. Added to this impressive achievement is the news that both Eun Jung and her sister, Hyo Jung Shin, also a second-year chemistry student at QCC, have been notified that their abstracts on water analysis have been accepted for presentation at the spring 2014 Columbia Undergraduate Science Journal's Symposium, to be held on April 20 at Columbia University. Congratulations to Eun Jung, Hyo Jung Shin and their mentors, Drs. Paris Svoronos and Jung Shin on such outstanding accomplishments!
Additionally, Zymeena Chavis, a Social Science student in the Liberal Arts Academy, just completed the 2014 Model New York State Senate Session Project. This intensive two-week program provides students from the City and State Universities of New York with an opportunity to develop their leadership potential through direct participation in the process of legislative decision making. The program culminated in the New York State Senate Chambers in Albany where Ms. Chavis, along with other model student senators, presented motions on the topic of campaign finance reform. Congratulations to Zymeena--also President of QCC's successful Mock Trial Team--and her advisors/coaches, Professors Ted Rosen, Leslie Francis, Stephen Hammel and Elaine Thompson of the Department of Business; as well as Gisela Rivera, Director of Student Activities.
Five QCC student teams competed in the NYC Regional Semi-finals of the NYS Business Plan Competition. Competing against MBA students from Columbia and NYU, two of our five teams have been selected to compete in the statewide finals in Albany on April 25th.  All QCC students were recognized by the judges for their outstanding abilities.  Congratulations to them, and to their faculty mentors from the Business and Engineering Technology Departments, led by Professor Christine Mooney.
On the humanities front, we applaud our modern dance students in the Visual and Performing Arts (VAPA) Academy who participated in the American College Dance Festival's Northeast Regional Conference at SUNY Brockport, held March 12-16. Of 35 colleges and universities in attendance, Queensborough was one of only three community colleges to present at the event. Bravo to our talented students, who were a great success, and congratulations to their mentors, Professors Emily Berry and Aviva Geismar!
Warm regards,

Dr. Diane B. Call
President