Message from the President
Message From The President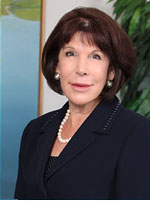 March 2014
As many of you may know, March is Women's History Month, and this celebration gives all of us an opportunity to pay tribute to the valuable and inspiring contributions women have made to society.
While we consistently have wonderful news to share about the academic successes by women here at Queensborough, I am especially pleased to highlight several such recent achievements.
Sandy Enriquez, a second year chemistry student in the STEM Academy, has been accepted into a prestigious summer internship program at the University of Tennessee at Knoxville. This is a remarkable accomplishment because the highly competitive internship program tends to favor students from elite four-year colleges and universities. Sandy was recognized as a candidate for the internship program after she was given an award for the Best Analytical Chemistry Research Project during the 46th Southeast Undergraduate Research Conference (SURC) at the University of Tennessee, in January 2014. Sandy will graduate in May of 2014 and continue her studies in the chemical sciences at the University of Tennessee.
Another Chemistry student, Daysi Proano, has been accepted into the summer 2014 National Science Foundation (NSF) Research Experience for Undergraduates (REU) Program in Chemistry at Georgetown University, where she will conduct lab experiments in organic and biological chemistry. The competition to study in summer REU's is also fierce, with only a 5 to 10 percent acceptance rate.
Both Sandy and Daysi thank their dedicated faculty mentors, and in particular Dr. Paris Svoronos of the Chemistry Department.
Additionally, the Eighth Annual Grants Recognition Reception in February marked 25 consecutive years for the Collegiate Science and Technology Entry Program (CSTEP) and the Liberty Partnerships Program Project PRIZE. Since it was established in the fall of 1987, CSTEP has provided services and opportunities for historically under-represented students in the Science, Technologies, Engineering and Mathematics (STEM) fields. The program serves approximately 120 students annually and has assisted more than 1,500 students since its inception. Congratulations to project director Marie-Francesca Berrouet, director of CSTEP, for the program's continued success. Queensborough is one of the leading recipients of individual faculty research grants in the sciences for community colleges across the country.
During the last quarter century, Queensborough has benefited over 5,000 middle and high school students through their participation in the on-campus program Project PRIZE. The high school graduation rate for students who have completed the project has remained a consistent 90 percent or above, with students moving on to study at four-year colleges or universities to major in the fields of nursing, pre-med, law, social work or education.  Approximately 5 percent of the graduates choose to enter the workforce after high school. Congratulations to former longtime Project Director, Sherri-Ann Simmons, and new project Director Yicel Nota-Latif.
 Other success stories are rooted in programs such as New York Needs You (NYNY), and these programs give many of our students the opportunity to share what they learn at the college with the broader community.  One fine example is Sheryll Pang, Class of 2012, who was profiled recently in The Wall Street Journal for her insightful remarks to business leaders at the America Needs You Benefit. Sheryll, who majored in Business Administration at Queensborough, was awarded the NYNY fellowship in 2011. As the first in her family to graduate from college, Sheryll said she is "very proud to be an alumna of Queensborough" and credits the college as a "starting point in rebuilding her life." She is on track to graduate with honors from Baruch College in May then begin her career at the asset management firm BlackRock, located in Manhattan. I encourage you to learn more about her compelling life story in the "Top of the Class" section of the upcoming spring issue of CUNY's Salute to Scholars magazine.
In other impressive news, Queensborough's Mock Trial Team has also been singled out for high praise as the only community college to compete with four-year institutions in the American Mock Trial Association Regional Tournament, held at Roger Williams University in Bristol, Rhode Island on February 8 and 9. In a competitive third round of the four-round tournament, Queensborough earned a tie with Brandeis University. I am very grateful for the outstanding mentorship of the QCC faculty advisors/coaches, including Professor Ted Rosen of the Business Academy.
Learning firsthand about the accomplishments and scholarly works of my colleagues, who have sustained a record of academic distinction in either scholarship or creative expression, allows me the privilege to announce the 2014 recipients of Queensborough's Excellence in Faculty Scholarship awards: Dr. Edmund Clingan, Associate Professor, History Department; Dr. Jeffrey Jankowski, Associate Professor (Psychology), Social Sciences Department; and Dr. Paul Marchese, Professor, Physics Department. Their exceptional achievements will be recognized at a special ceremony on April 1.
Looking ahead, our Common Read initiative will begin its schedule of events on March 17. The purpose of the Common Read is to promote integrative learning across the curriculum by engaging faculty and students in discussions of the text as well as through related lectures and other activities. Susan Madera, Academic Program Manager for High Impact Practices and coordinator for the initiative, noted, "The Common Read is an opportunity for both faculty and students to spread their wings.  With administrative support and resources they have access to increased social and academic engagement that enhances student learning both inside and outside of the classroom."
The rigorous and stimulating academic environment at Queensborough is continuously renewed and energized by our quality research, powerful ideas, and the academic support services that benefit our students, faculty and the entire college community.
Warm regards,

Dr. Diane B. Call
President