Message from the President
Message From The President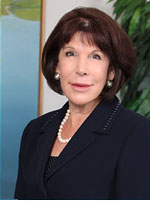 February 2013
As Interim President, and for many years before as a faculty member and administrator, it has been my honor to collaborate with the dedicated faculty and staff of Queensborough to advance a rigorous and rewarding student learning environment.
As President, I will ensure that focus and goal do not change. We will continue to support a strong and engaged faculty, a student-centered learning environment, and community partnerships.  A key objective is to provide an academic environment that strengthens access, students' commitment to degree completion, and support for timely completion of their goals.
Among the outstanding students we salute this month are winners of the 2012 – 2013 University Student Senate Scholarship Competition. The USS Scholarship Committee awarded eleven Ernesto Malave Merit Scholarships and fourteen Donald and Mary Ellen Passantino scholarships to accomplished students across CUNY. Five of the awardees attend Queensborough – more than any other CUNY institution. Congratulations to Xiangying Wu, Corina Hernandez, Miriam Rodriguez, Stephanie Formoso and Anastasia Robinson on distinguishing themselves through outstanding scholarship, leadership and service to our College.
We also recognize biology professor Rituparna Bose for engaging students in her research on ecology, evolution and biodiversity. Last fall, Dr. Bose was named visiting scientist at New York's American Museum of Natural History. The museum houses one of the most extensive fossil exhibits in the nation. Dr. Bose is working to develop techniques to identify ancient species. Each semester, Dr. Bose's students visit the museum and report back for class. She also plans to assign students to catalogue fossilized volcanic rock and minerals in exhibits. The students' work benefits the museum, introduces students to biodiversity conservation, and prepares them for careers in the sciences or museum studies.
Stories like these from across our College community are an enormous source of pride for us. I am grateful to all who make Queensborough such a successful and special place.
Warm regards,

Dr. Diane B. Call
President