Message from the President
Message From The President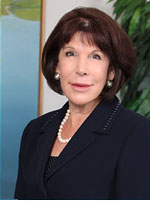 January 2014
I am delighted to welcome students to the start of another promising spring semester and pleased to share news of our recent achievements.
Earlier this month, the Nursing Candlelighting Ceremony was held for the graduating Class of January 2014 and featured 50 nursing students—22% of whom were men. Queensborough is above the national average in the number of male nursing graduates.
Our winter session was very successful, boasting an 18% increase over last year's winter enrollment as well as the highest number of courses ever offered—more than 40.
Additionally, Queensborough has been selected as a leader of the Student Learning for Civic Capacity: Stimulating Moral, Ethical, and Civic Engagement for Learning that Lasts grant funded by the prestigious Teagle Foundation. We are proud to help serve as a role model for community colleges across the nation on the value of academic service learning.
On the cultural side, The Kupferberg Holocaust Resource Center and Archives (KHRCA) has been invited to partner with the International March of the Living in creating an exhibit for International Holocaust Remembrance Day at the United Nations, on January 28. The exhibit will reflect the work of the International March of the Living by bringing students from around the world to Holocaust sites in Poland and to Jerusalem to study the aftermath of the Holocaust. Congratulations to Dr. Arthur Flug, Executive Director of the KHRCA, who will lead the project.
Dr. Flug was also honored by the Korean American Association of Greater New York at a gala held in Queens, on January 14.  The Good Neighbor Award cited his "efforts that have made a lasting impact on the Korean community."
At the QCC Art Gallery, two major exhibits will open on January 30. The first, Powerful Arts of Cameroon–the Njoya Collection, is composed of over 100 objects representing the spiritual significance and beauty of the Cameroonian culture.  Mr. Njoya commented that the QCC Art Gallery "has given me the voice to help transmit my message to the world of African ritual arts in the United States." The second, A Pioneer Malian Painter, features selected paintings by artist Victor Forestier Sow, whose most prolific years were during the decades that Mali gained independence and began to forge a national identity.
Moving from the fine arts to the performing arts, our 2014 roster of outstanding talent at the Queensborough Performing Arts Center (QPAC) continues on February 17 with Michael Bolton, the multiple Grammy Award-winning singer, songwriter and social activist.
Our prized cultural resources for our students, faculty and staff are an integral part of Queensborough's fabric. They enrich the academic experience for our college community and bring enjoyment to visitors and audiences from all five boroughs and from all walks of life.
Warm regards,

Dr. Diane B. Call
President