Welcome from the President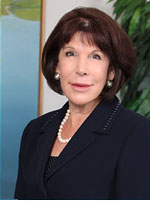 January 2013
As we celebrate the beginning of a new year, we join as a community to embrace our values of empathy and fellowship, especially after the tragedy in Newtown, CT.
At Queensborough, our outstanding students, faculty, and staff will carry those values forward in 2013 as we prepare for a busy spring semester – a semester that promises great accomplishments.
We continue to work mightily to help those caught in the fury of super storm Sandy. In the two months since the storm, the College community has raised tens of thousands of dollars to help severely impacted students continue their education, with the support of generous grants from our QCC Fund members and the Robin Hood Foundation. Many departments conducted fund raising activities and food drives to assist the victims of the storm. Members of the Nursing Department along with students traveled to neighborhoods to assist with clean up provide services to families whose homes were damaged.  Faculty and students from the Business department also organized a holiday toy and book drive to benefit children in the Rockaways.  Barnes & Noble provided $600 worth of children's books, and physics professor Dr. Dinah Moché donated 200 copies of her book If You Were an Astronaut.
On the academic side, I am pleased to announce the National Endowment for the Humanities has awarded a grant – Bridging Historias through Latino History and Cultures – to the American Social History Project/Center for Media Learning at CUNY's Graduate Center, in partnership with Queensborough. The grant is part of the NEH Bridging Cultures at Community Colleges initiative. The project will expand the teaching of Latino history and culture across the humanities disciplines. Congratulations to history professor Dr. Megan Elias, who was named the grant's lead faculty mentor, and Michele Cuomo, Associate Dean for Academic Affairs, who will serve as the administrative program leader.
In December, alumna Sheryll Pang was awarded an Asian Women in Business Scholarship, which recognizes exceptional Asian students who demonstrate a commitment to scholarship, leadership, community service and entrepreneurship. Sheryll, who now attends Baruch College, applied for the scholarship while a member of QCC's Phi Theta Kappa Honor Society.
Also, QCC's Math Club Team won second place out of 30 community colleges competing in the prestigious New York State Mathematics Association of Two Year Colleges contest.
These service learning and scholarly achievements are life-affirming experiences for all of us, especially for our students. Let us move forward in 2013 together with these positive feelings in mind.
Warm regards,

Dr. Diane B. Call
President