To insure that an institution's assessment is valid and meaningful, assessment must be a process that is comprehensive, integrated, and sustained.
Comprehensive
Assessment is comprehensive when it takes into account all levels and all branches of the institution
Academic Assessment of Student Learning
Administrative Assessment of all services in support of student learning
Assessment of Institutional Effectiveness
Integrated
Assessment is integrated when there is a clear, conceptual alignment among objectives at different but related levels of the institution
Sustained
Assessment is sustained when the institution at each level has agreed to a timetable for the assessments that occur at each level
How is comprehensive, integrated and sustained assessment achieved within the scope of my teaching methods?
Comprehensive, Integrated and Sustained assessment can be achieved by reviewing actual samples of student work produced in our courses and programs. These include writing assignments, capstone projects, exhibits or performances, etc.
Click on the assessment process to see how to design a course assessment.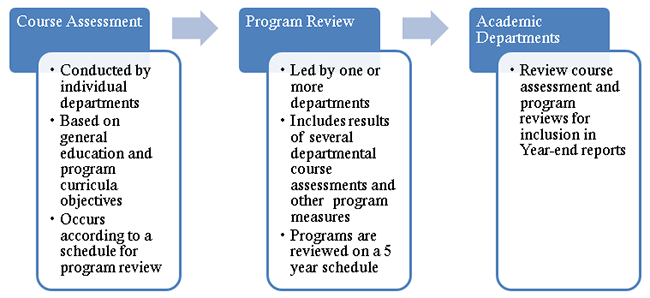 Assessment—which is everyone's concern—is achieved most efficiently when it is a collaborative effort on the broadest possible scale. When it works at that level of collaboration, assessment can be the engine for innovation and improvement of the institution.
It enhances student learning and institutional effectiveness.
It provides opportunities for faculty service and pedagogical and scholarly research.
Assessment is not only about continuous improvement of student learning; it is also the means by which an institution can affirm that both institutional and student learning outcomes are meeting defined or projected expectations.
Myth: Assessment will be used for evaluation of faculty, administrators, or staff members
Fact: Assessment is not documentation used for annual reviews or for decisions on promotion or tenure.  It is unethical to use assessment results for the purposes of faculty, administrators or staff evaluation.
Myth: Assessment is for administration.
Fact: Assessment is for everyone. For faculty, it is a way in which we improve student learning and institutional effectiveness.
Myth: There is no real benefit from doing assessment.
Fact: Doing assessment shows what students are learning in their courses and their degree program.
Myth: Course assessment is an assessment of student outcomes in my own class.
Fact: Classroom assessment provides the student learning outcomes in one's own class.  Course assessment provides the student learning outcomes of multiple sections of a course taught by me and my colleagues.
Myth: Doing course assessment is only for new faculty members.
Fact: Course assessment is for all faculty members! Everyone who teaches a course that is being assessed should be involved in the process.
What is the Assessment Process?
Design
The first step to developing an effective course or program assessment is the design. The assessment design is created using the General Education Objectives, Curricula Objectives, and Course Objectives and Learning Outcomes.
If the assessment involves a course that is part of the Common Core, then the assessment is created using the Common Core Learning Outcomes.
In the design process, faculty members collaborate to develop or select:
Educational objectives and learning outcomes
Assignments and coursework that meet the selected educational objectives
High-impact learning strategies such as writing intensive, service learning, learning community, ePortfolio, and distance learning
Methods to measure student learning outcomes

Direct Assessment

Review process of actual samples of student work produced in our courses and programs. These include writing assignments, capstone projects, exhibits or performances, etc.

Indirect Assessment

Collection of information through means other than looking at actual samples of student work. These include surveys, exit interviews, and focus groups.

Course-Embedded Assessment

Collecting assessment data information within the classroom because of the opportunity it provides to use already in-place assignments and coursework for assessment purposes. This involves taking a second look at materials generated in the classroom so that, in addition to providing a basis for grading students, these materials allow faculty to evaluate their approaches to instruction and course design.

Value-Added Assessment

Evaluation of the impact on student learning as measured by a pretest and posttest.

Rubrics

Method of classifying and categorizing student behaviors or products along a continuum. Rubrics can be used to assess writing, research reports, performances, portfolios, and problem-solving, among others. Rubrics allow faculty to evaluate or assess student work fairly efficiently. If students are taught to score their own work, they can profit from understanding the standards and criteria that faculty expect of them.