Alumni & Friends
Message from the QCC Alumni Association President

Michael S. Conigliaro, '92
August 2016
Dear Fellow Alumni:
I am proud to report, that currently, the alumni association is working with the following departments: Criminal Justice department and the Chemistry department, as well as the MALES Initiative Program.  Cabinet members Ms. Nina Hana,'10 and Mr. David Bernandez,'10 will be assiting in working with each depatment  to identify current students who meet the qualifications to obtain a QCCAA scholarship for the new year.
In addition, I'm pleased to announce that we gave QCCAA scholarships to three (3) deserving QCC Nursing Department students and attended the Nursing Department's Annual Candlelight Ceremony in the Fall semester of 2015 and the Spring semester of 2016.
I had the honor of speaking at Completion Day, where students agreed to Commit, Complete and Compete, with respect to their studies at Queensborough and obtain their Associate Degree here at QCC, before leaving to obtain a Bachelor Degree at a senior college.
In December, my fellow cabinet member and Treasurer Ms. Lissa Benton,'88 prepared a networking workshop for the Student Government Association.  QCC Development Specialist Nickie Patterson-Garcia presented the workshop to the students, and cabinet member Mr. Stephen Jones,'15 also participated.
We are currently in the process of starting up an NYPD Ride Along Program, to be conducted by cabinet member Christine Porter's husband, NYPD police officer Mr. David Porter. I will be working on this program with Dr. Aikas. Students, who partake in this program, will have an opportunity to ride along with Officer Porter and his partner and get a better understanding of what an NYPD officer's shift entails. 
I also plan on meeting with Dr. Young Kim who is the Chairperson/Associate Professor of the Health, Physical Education and Dance Department at Queensborough.  Along with my fellow cabinet members, Roger Mischel,'03 and sub- committee member Daniel Armstrong,'04 will meet with Dr. Kim, to discuss plans for the QCC Athletic Hall of Fame. No one has been inducted since 2001, and it is my hope to be able to once again recognize the successful efforts of our QCC Alumni Athletes this year.
On April 7, 2016, the QCCAA was in attendance at the 2016 Partners Gala at Terrace on the Park, to recognize those alumni and community leaders, who are an integral part of Queensborough Community College.
Lastly, on June 3rd I had the distinct honor of participating in the 55th annual QCC Commencement Ceremony. We welcomed back the 50th(1966) and 25th(1991) anniversary graduation classes. It was a wonderful and memorable event.
In closing, it has been both an honor and a privilege to serve you all as the QCCAA President.  I hope to continue to do even more, by raising money and awareness for the QCCAA. The funds raised will help to provide necessary resources for our students and will assist them in attaining their Associate Degree right here at Queensborough Communty College.
Sincerely,
Michael S. Conigliaro, '92
President, QCC Alumni Association
Queensborough Community College News
"QCCAA "Networking/Etiqutte" Workshop was held on Saturday December 5, 2015.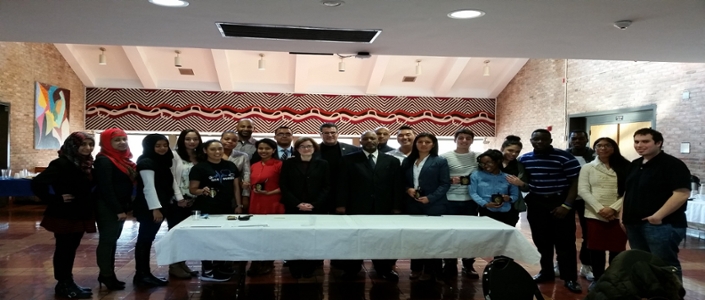 "QCCAA First "Networking/Etiquette" Workshop was held on Saturday, November 8, 2014.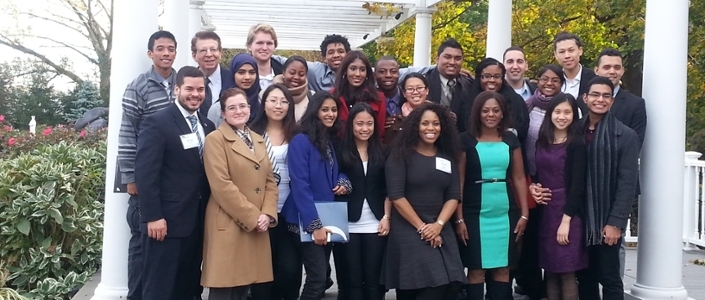 A special thanks to Lissa M. Benton, '88, who now serves as the Alumni Association Cabinet Treasurer. Thank you to Jorge D. Fanjul, '04 and Michael S. Kalkin, '62 as well for their support.  
QCC Alumni Association Cabinet
The members of the QCC Alumni Association Cabinet are elected to a two-year term each June by the dues-paying members of the Alumni Association. They are the leaders of the Alumni Association and together they elect, from their members, the Executive Board of the Association to a two-year term - the President, Vice President, Secretary and the Treasurer. 

The goals of the members of the Cabinet are to represent the Alumni at the College; serve the Alumni they represent; bring Alumni back to the College; and use their resources to help the College to continue its mission and to connect the Alumni to the students – our future Alumni.

For further information on serving in the QCC Alumni Association Cabinet, please contact Nickie Patterson-Garcia in the Alumni Office at (718) 281-5144 or via email at NPattersongarcia@qcc.cuny.edu. 
QCC Alumni Association Cabinet 2016-2017
Michael S. Conigliaro,'92 President
Michael S. Kalkin, '62 Vice President
Lissa M. Benton, '88 Treasurer
Christine Porter, RN, '10 Secretary 
David Bernardez, '10
Nina A. Hana, '10
Stephen Jones, '15
Roger Mischel, '03
Barry Pulchin, CPA, CFE, '66
QCC Alumni Association Sub-Committee Members
Daniel Armstrong, '03, '09
Jorge D. Fanjul, '04
Nickie Patterson-Garcia-Development Specialist for Alumni Relations