Give to QCC
President's Circle
President's Circle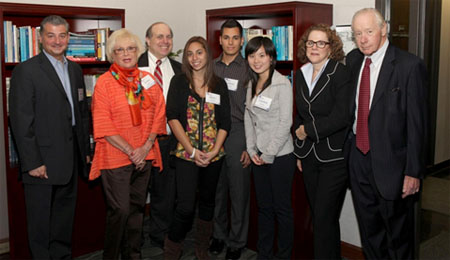 From Left: QCC Fund Board and some of the 2010 President's Circle members, Dominick Bruccoleri, Dr. Sandy Delson, and Mark Kupferberg; Merit Scholars Diana Ghalayini and Anthony Amarando; QCC Student Lei Shao; Ruth Bigman and QCC Fund Board Vice Chair and President Circle of Partners Chair, Norman Bigman, '62.
By joining the President's Circle, you make the college a priority in your philanthropic giving. With your gift of $1,000 or more, you demonstrate your allegiance to Queensborough by offering counsel to the President and involving your personal and professional networks. This, in turn, helps to position the college in providing high quality programs to its future students.
As a member of the President's Circle, you will be offered exclusive opportunities to deepen your connection to Queensborough. Through invitations to select events, like our Welcome Back Breakfast, Presidential Lecture Series, Annual Donor Reception, Partners for Progress Gala, and Presidential Cocktail Party, as well as intimate meetings with the President, you will have the opportunity to share your thoughts on the work Queensborough is currently undertaking and the direction it takes in the future to enhance the learning environment for Queensborough students.
President's Circle members form the bedrock of private support, which enables the college to continue to enhance its quality and breadth of the educational resources offered to our students beyond the basics provided by public funding.
Featured below are past President's Circle Members (2009-2010), who chose to personally invest in Queensborough Community College. 
Herbert Adler

Arnold Asrelsky, Ph.D.

Charlotte A. Biblow, Esq.

Norman Bigman, '62

Dominick Bruccoleri

Diane B. Call, Ed.D.

Peter Campanella

Sam Chen

Ocelia Claro

Milton & Florence Cohen

Carol Conslato

Sandra Delson, Ed.D.

Ira H. Futterman, Esq., '63

Sheena Gillespie, Ph.D.

Nathan & Pearl Halegua

Pascal & Eleanor Imperato

John Kuitwaard

Mark Kupferberg

Stephen & Cheryle Levine

William B. Maloney

Daniel F. Marcus, MD

Tim Noble

Charlene Prounis, '76

Linda Ramirez

Georgiana Reese-Benatti

Samuel Reiman

Kurt R. Schmeller, Ph.D.

Sidney Simon

Rosemary Sullivan Zins
If you are interested in joining the President's Circle or have additional questions, please contact Jerri Lynn Fields, Director of Corporate and Foundation Relations, at 718-281-5511 or jfields@qcc.cuny.edu.