Give to QCC
Give to QCC
Thank You.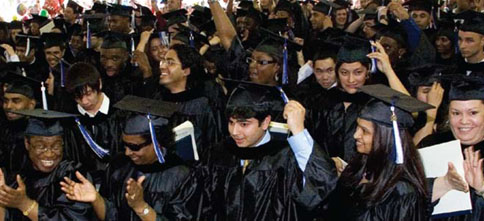 Thank you for providing our students with the gift of higher education. 
Thank you for ensuring the continuation of our high quality programs and services. 
Thank you for making Queensborough Community College a priority. 
While we understand the challenges that have arisen during this economic period, we appreciate the fact that you chose to prioritize Queensborough as a worthy cause for your time and support. No gift is too small – and your donation provides students with scholarship support, access to student support services such as tutoring, or exposure and engagement in the cultural resources on campus, such as the QCC Art Gallery, Kupferberg Holocaust Resource Center & Archives (KHRCA) and the Performing Arts Center (QPAC). Your contribution makes a difference. An investment in Queensborough Community College makes a HUGE difference in a student's life!

When you decide to give to QCC, you:
help support students who come to QCC as an affordable option for higher education;
create an enriched learning environment through the support of the Kupferberg Holocaust Resource Center & Archives (KHRCA) Art Gallery, and Queensborough Performing Arts Center (QPAC);
strengthen the college's faculty through professional development & research opportunities;
set an example for future alumni and community members through your philanthropy. 
Currently, QCC is one of six community colleges in the country to have received a multiyear challenge grant from the National Endowment for the Humanities (NEH). If donors chose to restrict their gifts to the KHRCA/NEH endowment, the college is eligible to receive up to a 50% match for their gifts from the NEH through 2016!
If you're ready to make a gift to Queensborough Community College, you can do so online (click here), by calling 718-281-5144, or by mailing a check, payable to the QCC Fund, Inc., to the following address: 
QCC Fund, Inc.
Rm. A-508
222-05 56th Avenue
Bayside, NY 11364