Give to QCC
Faculty Research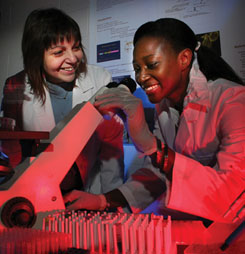 Queensborough's exemplary faculty is just one of the college's hallmarks, with 62% holding doctoral degrees compared to 21% of faculty in other community colleges nationwide. QCC's faculty present their work at national conferences, conduct academic and pedagogical research, and are tireless mentors to our ever-increasing number of students actively involved in undergraduate research.
In efforts to support the faculty's pedagogical and academic interests, the QCC Fund, Inc. annually allocates $25,000 to the Office of Academic Affairs to support faculty research. Last year, this support helped over 20 faculty members present their research at conferences across the country, with presentation topics in various disciplines such as:
Massage Therapy, Health, Physical Education, and Dance
"A Call to Arms, and Legs, and Abs: Physical Fitness and Patriotism." Paper presented by Dr. Virginia Cowen at the 2011 Popular Culture & American Culture Association Conference in San Antonio, TX.
Foreign Language and Literatures
"Presencia de la negritude en un poeta indomulato." Paper presented by Dr. Luisa Garcia-Conde at the IV Congreso Internacional in Arecibo, Puerto Rico.
"Study Abroad Students: Cultural Clash and Ethnocentric vs. Ethnorelative Perspectives." Paper presented by Dr. Federica Goldoni at the American Association of Applied Linguistics Conference in Chicago, IL.
English
"Sherwood Anderson's 'Adventures' in Gender in Winesburg, Ohio." Paper presented by Dr. David Humphries at the Northeast Modern Language Association Convention in New Brunswick, NJ.
Social Sciences
"Determinants and Growth of Foreign Direct Investment Flows to Brazil, Russia, India, and China." Paper presented by Dr. Pellegrino Manfra at the 10th Annual International Business & Economy Conference in Guadalajara, Mexico.
Library Science
"Information Literacy Across the Curriculum: Challenges and Opportunities." Paper presented by Professor Devin McKay at the 2011 Association of College and Research Libraries Conference in Philadelphia, PA.
History
"Female Friendships in Renaissance Florence." Paper presented by Dr. Megan Moran at the 32nd Annual Medieval and Renaissance Forum in Plymouth, NH.
Physics
"The Effect of Initial Energy Spread on Longitudinal Beam Modulations in an Electron." Paper presented by Dr. Charles Neuman at the 2011 Particle Accelerator Conference in New York, NY.
Nursing
"An Analysis of Mandatory Recording and Reporting of Body Mass Index: A School Health Policy to Address Childhood Obesity." Paper presented by Professor Carol Soto at the 23rd Annual Scientific Sessions – Informing Health Policy through Nursing in Philadelphia, PA.
Pedagogy
"Using Community As a Classroom for Retention and Career Exploration." Paper presented by Dr. Nidhi Gadura, Dr. Amy Traver, and Dr. Regina Rochford at the 91st  AACC Annual Convention in New Orleans, LA.
To learn more about our faculty's research interests, please visit the Office of Grants and Sponsored Programs.

Support Faculty Research at QCC!
Give to QCC