Give to QCC
The QCC Art Gallery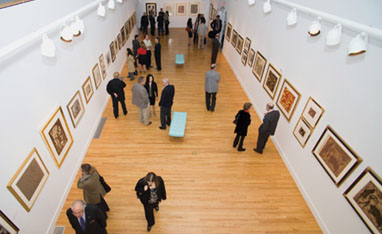 By presenting world-class exhibits and catalogue publications of local, national, international and historical interest, the QCC Art Gallery broadens an appreciation, understanding, and interpretation of art. The Gallery serves as a learning laboratory for the College and the surrounding community, through the College's Museum and Galleries Studies program, as well as the enrichment tours offered to public school students and adult residential centers. The Gallery also hosts its annual Juried Student Art Exhibit each spring allowing QCC art students to have the opportunity to present their work to the community.
One of the Gallery's overarching objectives is to acquire and present permanent collections that mirror the rich diversity of QCC's student population. The Gallery's permanent African Art Collection and its most recent Tanzinian exhibit, Shangaa, has already received critical acclaim from The New York Times art critic, Holland Cotter. Its second permanent exhibit, The Jaime Andrade Pre-Columbian Art Collection is currently in its installation phase, and the Gallery team is now focusing its efforts on building its third permanent collection of Asian art.
The QCC Art Gallery Endowment, established in 1988, has supported over twenty years of exhibitions, catalogue publications, lectures, and educational outreach activities.
"Queensborough Community College has quietly assembled an impressive collection of African Art…with luck, other university galleries around the country will emulate it." – Holland Cotter, The New York Times
In 2010, the Gallery received a major gift; a bequest of $1 million by Norman Philip Joondeph. A significant collector of art, Mr. Joondeph was a longtime patron of the Gallery, to which he bequeathed his entire personal collection of contemporary art.
To view past exhibits and current schedule of programs, please visit the QCC Art Gallery website.