---
Move forward with a whole community behind you
Build a foundation for your future at Queensborough Community College. With a dedicated community of faculty, professional mentors and a diverse student body, you'll be empowered to succeed. Studying in one of five Queensborough Academies, you'll learn from professors who are passionate about their subjects - and your future. Student life is full of exciting activities, competitive athletics and outreach opportunities extending beyond campus. When you're ready to take the next step, we'll help you transition towards a higher degree or begin your career. And, best of all, our affordable tuition and generous aid can help you maintain financial freedom.
---
Faculty and programs to inspire you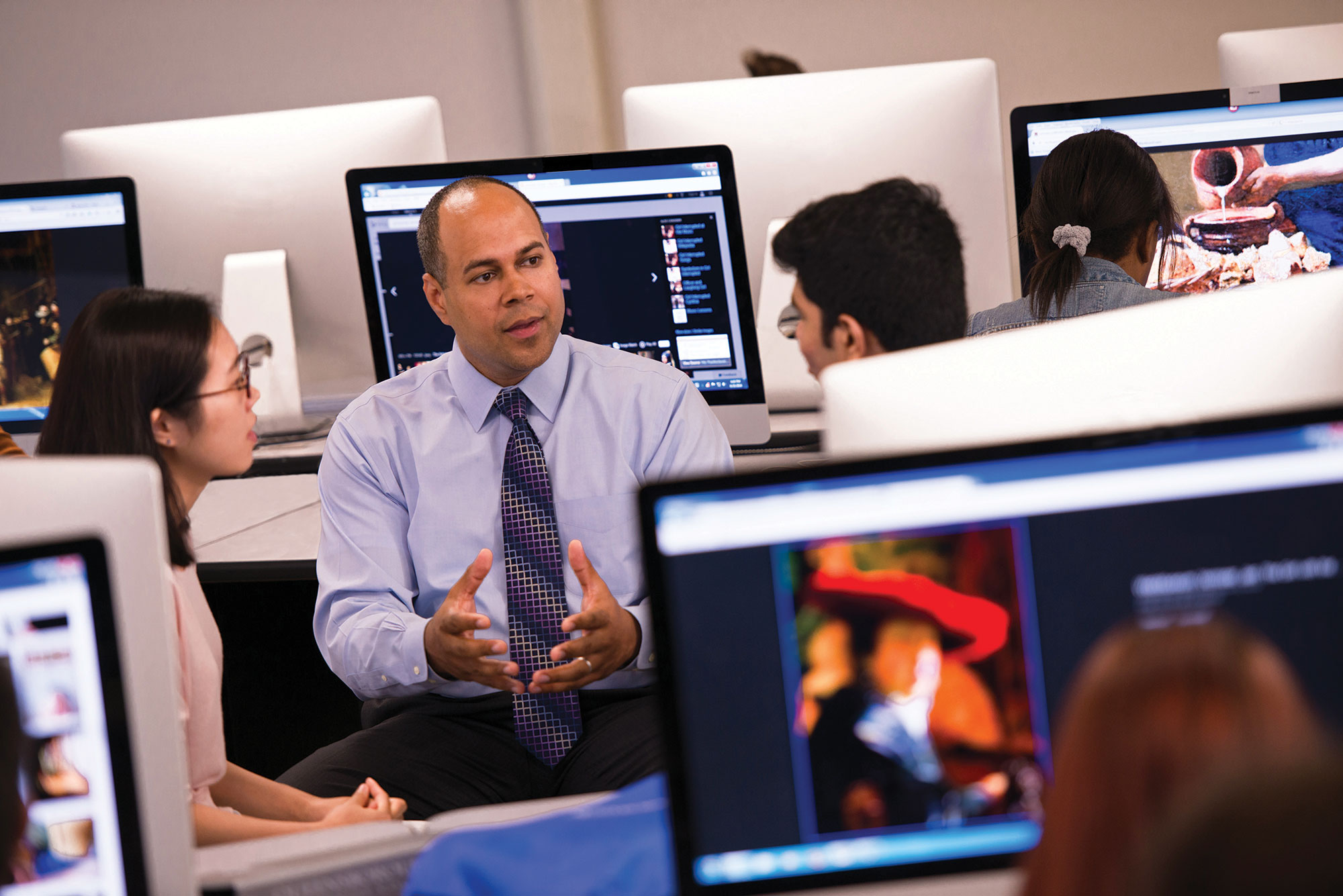 81% of full-time faculty members at Queensborough hold a doctoral or other terminal degree.

Amplify your learning in our Queensborough Academies
As a Queensborough student you'll focus your education in one of our five Queensborough Academies: the Business Academy; Health Related Sciences Academy; Liberal Arts Academy; Science, Technologies, Engineering, & Math (STEM) Academy; or the Visual and Performing Arts Academy (VAPA). With experiences in service-learning, writing intensive courses, special events, museums, performances and laboratories, you'll benefit from a focused, impactful education.
One-on-one support from your Queensborough Academy Adviser
From the moment you step onto our campus, you're paired with a personal Queensborough Academy Adviser dedicated to helping you reach your academic and career goals. Your Academy Adviser will guide you through course selection, help you understand degree requirements, assist with career planning and support you throughout your college experience.
Hands-on student research experience
Within your Queensborough Academy you'll have the opportunity to connect in-class learning with real world experience by participating in meaningful research. Queensborough is one of the few community colleges to have an undergraduate research program, encouraging you to work closely with professors and present your findings at national conferences.
---
The smartest way to earn your education
Programs of Study
Queensborough Community College can launch you into nearly any profession: doctor, lawyer, teacher, police officer, nurse, computer programmer, scientist, business owner, artist, and much more. Queensborough offers transfer programs, including dual-joint degree programs, as well as career and certificate programs.
---
Peers and activities to engage you
Get in the spirit of Queensborough Community College.
Queensborough offers a wide variety of resources for you to enrich your academic experience and connect with your peers. These include: clubs, activities, athletics, service learning, student government, veterans services, and much more.
Join one of our 50+ clubs and organizations to develop and explore your talents and interests:
Architecture Club
ASAP Club
Biology Club
The Business Society
Chemistry Club
College Discovery Club
Creative Writing Club
Diversity Dance Crew Club
Drama Society
Film Club
Leaders of Tomorrow Club
Mock Trial Association
Music Society
Psychology Club
Robotics Club
STEM Research Club
Student Government
Student Veterans Association
And More!
Apply Today!
---
Athletics
Be a Queensborough Tiger
Show your Tiger pride in the stands or on the court - either way, the excitement is contagious!
We field 14 men's and women's varsity teams — several have won a City University of New York Athletic Conference (CUNYAC) championship in recent years

Queensborough has won the CUNYAC Commissioner's Cup Championship 3 years in a row (2014, 2015, & 2016) and 8 times in its history!
Men's Teams
Baseball
Basketball
Cross Country
Indoor Track
Outdoor Track
Soccer
Swimming
Women's Teams
Basketball
Cross Country
Indoor Track
Outdoor Track
Swimming
Volleyball (2019 CUNYAC, Region XV, & NJCAA District Champions, #9 in the nation)
Apply Today!
Paige Hughes, 2019 Region XV tournament MVP, 2019 Region XV All-Region 1st Team, 2019 CUNYAC/Pepsi Community College Women's Volleyball All-Tournament Team Most Valuable Player, 2019 CUNYAC Athlete of the Week award winner
---
Visit Us
Information Sessions
QCC invites prospective students and their families to an information session led by one of our admission counselors.
Where you will have the opportunity to:
Learn about our student-focused Queensborough Academies and our outstanding 40+ academic programs
Complete your CUNY application
Learn about our various student success programs such as ASAP and College Discovery
Discuss Financial Aid and learn how affordable a Queensborough education can be
Tour our beautiful campus with a QCC student ambassador
Register for an Information Session
Group Tours Only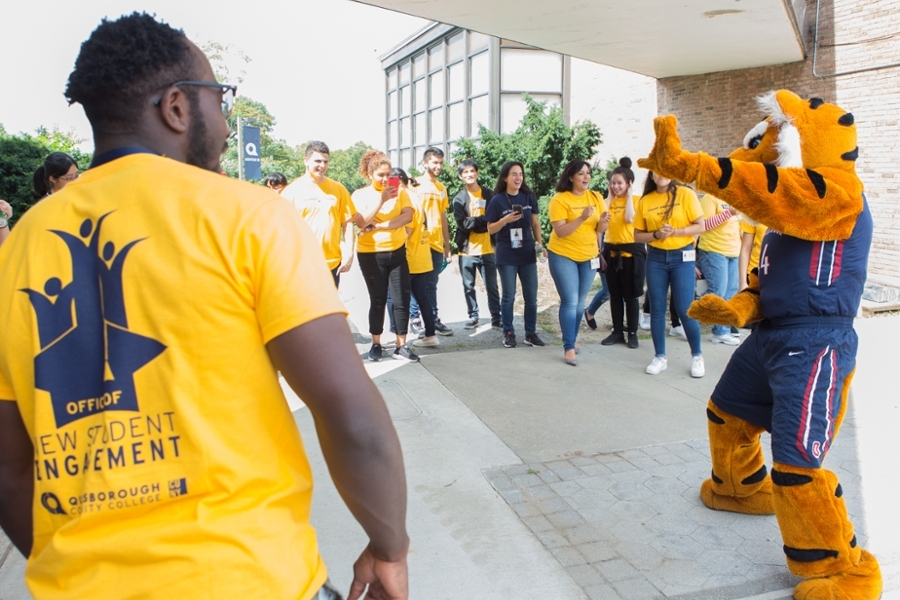 For group tour information and scheduling, please email Edgar DeCastro at Edecastro@qcc.cuny.edu. Please contact us at least 2 weeks in advance of your desired tour date so that arrangements can be confirmed. To ensure the best group tour experience, please limit the size of your group to 30 students.
---
Campus Map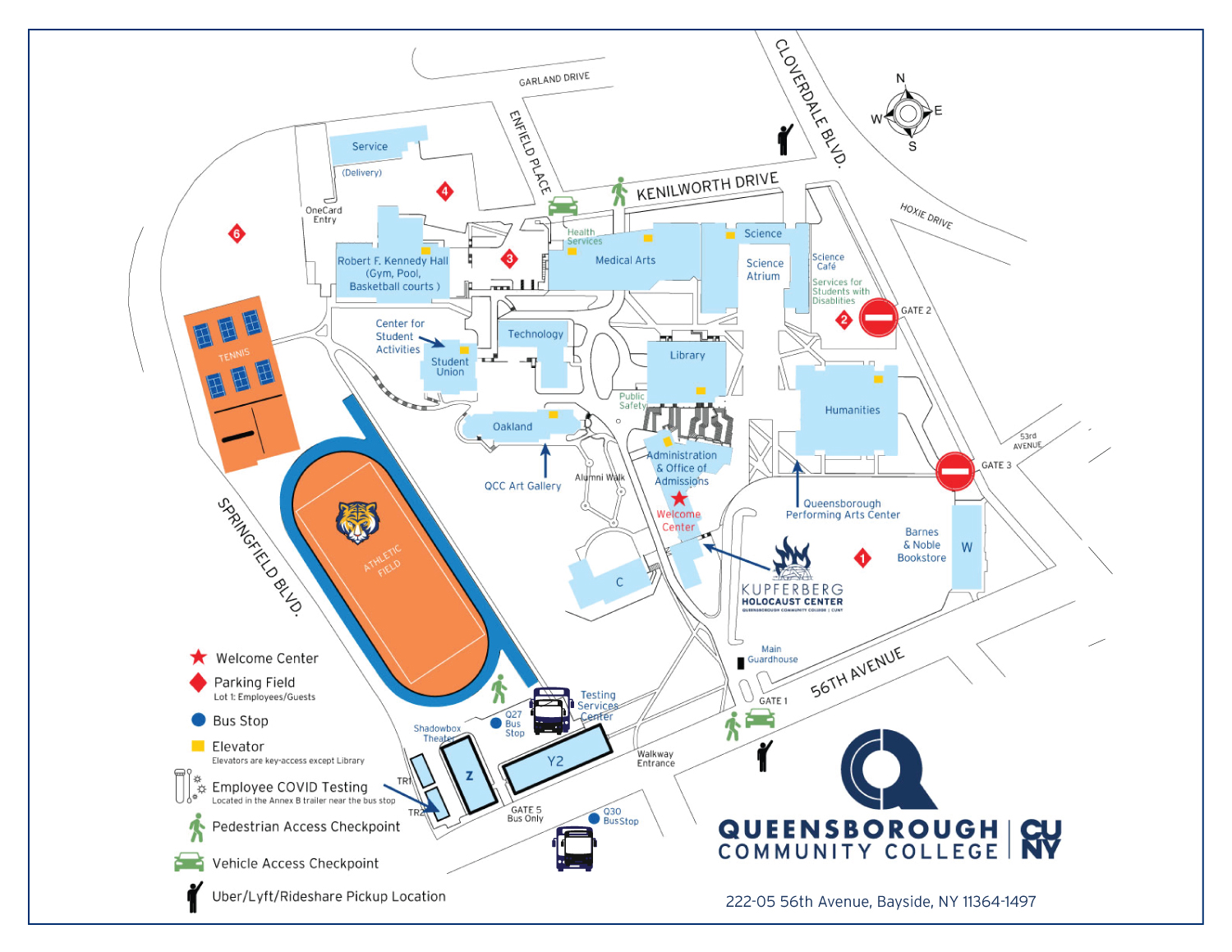 Getting to Queensborough
Public Transportation
Driving
Parking
Take advantage of all that The City University of New York has to offer!
Make the connections you need to succeed in New York City and beyond, and do it all at a place that feels just like home - Queensborough Community College!
We've got that suburban feel, a lush 37-acre campus and a welcoming community, all close by in beautiful Bayside, Queens, just minutes from Great Neck, Long Island.
Our community of dedicated faculty, professional mentors and a diverse student body will empower you to succeed. Studying in one of five award-winning Queensborough Academies, you'll learn from professors who are passionate about their subjects - and your future.
Student life is full of exciting activities, competitive athletics and outreach opportunities extending beyond campus and into New York City!
It's easy to transfer to a CUNY senior college or any other four-year college once you earn your degree here! Stay in the neighborhood or venture into the City or beyond. Queensborough's exclusive Transfer Resource Center gives you a world of choices!
Apply Today!
Learn about our upcoming events in the Office of Admissions. View our events
---
Partnerships and networks to connect you
Make your transition easy
Whether you plan to complete a bachelor's degree or enter the workforce with your associate's degree, Queensborough works with you to map out where you want to go and how to get there. Through personal guidance, interactive technologies and strategic  partner agreements, we ensure a smooth transition to your next destination.
Pursue a higher degree
Your strong start at Queensborough can yield incredible results. Join the ranks of our alumni who go on to enroll at prestigious 4-year institutions including Baruch College, Columbia University, Queens College, The City College of New York, New York University, St. John's University and more.
Begin your career
There's one thing you'll find in abundance at Queensborough: opportunity. When you begin your career, you'll be connected to a network of more than 72,000 successful alumni all over the metropolitan area.
---
Our graduates attend
Baruch College
Columbia University
Hunter College
New York University
Pratt Institute
Princeton University
Queens College
St. John's University
Stony Brook University
And more!
Our graduates work at
American Airlines
Citi
IBM
JP Morgan Chase
New York Presbyterian Hospital
New York Police Department
NYC Department of Education
Verizon
And more!
---
Make Queensborough your first choice
Advance your academic and professional career with confidence