Global Citizenship Alliance - Study Abroad Program in Salzburg, Austria
NOTE: Due to the disruptions caused by COVID-19, CUNY has suspended the GCA until further notice.
Global Citizenship Alliance Salzburg, Austria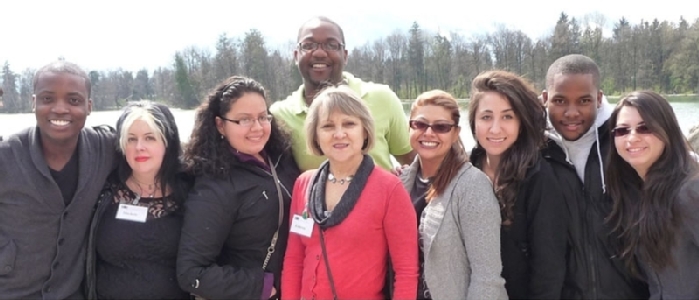 CUNY/QCC Queensborough Community College students Salzburg Global Seminar April 7-14, 2012 at Schloss Leopoldskron in Salzburg, Austria Left to right: Olakunle (Kay) Oluwadmisi, Michele Borg, Denise Reyna, Lorena Ellis (Faculty Adviser), Leilani Blira-Koessler, Maria Canon, Sebastian Delva, Katherine Avalos; Top row: Austin Taylor
Global Citizenship Alliance is a free one-week program in Salzburg, Austria. The purpose of the program is to provide students with an intensive 7-day international experience. Participants will explore issues of global concern and view these issues from a different perspective. This seminar is open to all full-time students who have demonstrated academic success, regardless of their financial need!
Global Citizenship Alliance Eligibility Criteria
Global Citizenship Alliance  Application