Writing Courses - English Department
When you take a writing course at Queensborough, you are taking a writing course in one of the most diverse colleges in the world, in one of the great cities of the world. Writing courses take advantage of this fact in the ways that students are invited to bring their own perspectives and experiences to their writing and encouraged to explore the world around them through their reading and writing assignments.
All students at Queensborough Community College must take the two courses that make up the first-year writing requirement: ENGL-101: English Composition I and ENGL-102: Introduction to Literature.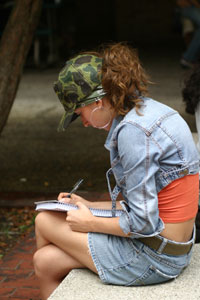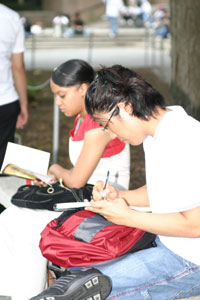 In ENGL-101, you will learn the basics of academic writing by reading nonfiction and writing essays in response. You will also most likely be reading and responding to other students' work as well. If you choose to take part in a Learning Community – two or more linked courses – you can select a writing course based around a particular topic, such as "Out of the Classrooms, Into the Streets" or "People Watching." For those students majoring in Digital Art and Design, the English department offers ENGL-103: Writing for New Media in place of ENGL-101. Students in ENGL-103 do readings and writings about topics relating to visual culture, digital culture, and the intersections of technology and media.
In ENGL-102, your readings will be drawn from different literary genres – poetry, drama, and fiction and your writing assignments will help you to respond to different texts and continue to improve your academic writing skills. Students also have the opportunity to enroll in a Learning Community designed around a special theme. For example, you might take an English 102 course linked with a Psychology Course in which you look at "'Unspeakable' Narratives and Unconscious Motives." You can also take English courses which are themselves designed around a special theme, such as "Hip-Hop and Literature: Histories and Connections" or "The Natural and Supernatural in Art and Literature."
Students who enjoy writing and their writing courses often go on to take creative writing courses.
The English Department offers a number of creative writing courses in poetry, fiction writing and advanced prose as well as journalism. Students in the creative writing courses have a chance to prepare their works for student publications or join the Poetry Slam Team. Students in ENGL-214: Introduction to Journalism write, edit, and publish Communiqué, the College's newspaper. ENGL-214 offers members a hands-on, workshop approach as students learn how to report for, edit, and publish a newspaper by doing just that. We print 4,000 to 6,000 copies per edition, reaching a substantial audience of students, faculty and staff at Queensborough.
For a detailed description of the English department's Writing courses, refer to the College catalog. Feel free to stop by the department to talk with faculty about the writing classes they teach. For a listing of the new course IDs, click here.