Student Support
Blackboard Training Course (For students)
This is an introductory course designed to help Queensborough Community College (QCC) students become familiar with the QCC implementation of the Blackboard Learning Management System. This course will provide you with an overview and introduction to the core features and major tools of the Blackboard Learning Management system (LMS).
How to access this course:
1. Login into Blackboard, on the Home Tab, scroll down to the Course Search The module is "usually" located in the bottom left of the Home Tab.
2. In the Course Search box, type Introduction to Blackboard - Students.
3. Click Go.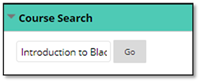 4. Locate the Introduction to Blackboard – Student course. Click on the chevron next to the course ID QCC01_Blackboard_Student_Training and select Enroll.

5. On the next page, enter the access code bbsupport

6. Click Submit.
7. You will receive a confirmation message that you have successfully enrolled. Click Ok to proceed to the course site.
Technological skills needed to take online courses
The accounts you need:
CUNYfirst (click the link to activate your CUNYfirst account)
Blackboard - a learning management system used in CUNY where you can access your course materials if your professors use it. (Blackboard Tutorials)
You need to claim your CUNYfirst account before you can log into Blackboard.
Office 365 Email - you will receive all communications related to your courses and other academic matters through this email.
You may need to access other online systems or applications. See your specific course syllabus for a detailed description.

System Requirements and Technical Skills:
Office 365: Word, Excel, Powerpoint, and other MS applications
Web browsers and the skills to use the internet to search and evaluate information
Other applications required by your course instructor
Library Resources for Online Learning
Library Website
https://qcc.libguides.com/libraryhome
How to Contact the Library: 4 Different Ways – Walk in, Phone, Email, Chat
Hours of Operation (for Walk in) can be found here: https://qcc.libcal.com/hours/ 
Email: askref@qcc.cuny.edu
Chat: Currently can be found on the bottom right corner of the home page; so at the moment we have a service called LibraryHelp. We were in the process of switching to SharePoint, however they were bought by SpringShare, so we will be transitioning to their service LibAnswers within the next two months. I will keep you updated.  
Library Liaisons
Every subject offered on campus has a specialty librarian to act as a contact to give you the best answer to your question. Liaisons can be found here: https://qcc.libguides.com/liaison/liaisonlist
Interlibrary loan
Two different kinds of ILL: CLICS and non-CLICS
To request books that CUNY owns (CLICS):
Locate the book in OneSearch
Scroll to the yellow box that says, "Request this item"
Sign in using the library barcode on the back of your TigerCard (your username and password are both your library barcode number)
Choose QCC as your pick up location, then click request.
You will receive an email when your book arrives. You can pick it up your book at the Circulation Desk on the 2nd floor of the library
To request a book that CUNY does not own (non-CLICS):
Go to the library website and choose "interlibrary loan" from the "Books" drop down menu.
If it is your first time using this type of ILL, you will need to create an account.
Log in and choose the media you would like to request (book, article, DVD, etc.)
Provide as much information about the item as possible and click request
To expedite this process, please ensure that this item isn't available through CUNY by checking OneSearch and Worlcat, or for free through Academic Works or Google Scholar.
You will receive an email when the item has been received. If it is a physical item, you can pick it up it up at the circulation desk. For digital media, log in to your ILL account and download the PDF.
We will do everything we can to locate and deliver this item to you. However, ILL is not 100% guaranteed due to lending and cost restrictions.   
Home Delivery
The QCC library provides home delivery of resources on a case by case basis. For faster service, we recommend contacting your local or state public library for this service.
Using Online Library Resources from Home
To use library resources from home you will need an active TigerCard. (in-person)
Books
Our books can be located through our catalog, OneSearch. This includes our e-books.
To search for e-books:
Go to the library homepage and locate the OneSearch box on the right hand side of the page.
Enter your keywords
On the results page, use the filter on the right side to narrow to, "Books" and "Full Text Online".
Journal Articles
Journal articles can be found in our databases. Our databases can be found in two places:
A – Z List: https://qcc.libguides.com/az.php
By Subject: https://qcc.libguides.com/libraryhome/dbsbysubject    
Digital Media
The library subscribes to a streaming video service called Kanopy.
Other Information
The library has access to additional types of information, including business and census data, newspapers,
Research Help
The library offers guidance to doing research for your classwork. A good place to start is with our Research Process guide. It can be found at: http://academicworks.cuny.edu/qb_oers/14
Citation Help
Before creating citations for your work, check with your professor to find out what style they want you to use.
The library offers guides to help you create your citations. They can be found on the library's website.
Modern Language Association (MLA)
American Psychological Association (APA)