Faculty Support
Blackboard Training Course
This is an introductory course designed to help Queensborough Community College (QCC) faculty and staff become familiar with the University's Learning Management System (Blackboard). This course will provide you with an overview and introduction to the core facets and major tools of the Blackboard Learning Management system. We strongly recommend you to take this course if you are new to teaching online or using Blackboard for the first time.
How to access this course:
1.- After logging into Blackboard, on the Home Tab, scroll down to the Course Search module.

2.- Type in Introduction to Blackboard (it's not case-sensitive). Be patient, it may take a while to complete the search.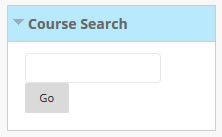 3.- When the search is complete, you will see the link to the Introduction to Blackboard - Faculty displayed on the page.



4.- Click the chevron button, and then select Enroll.
5.- Enter the following password: bbsupport.
6.- Finally, click Submit to complete the self-enrollment process.
eLearning Faculty Institute
Each year, the Office of Educational Technology (OET) accepts applications from faculty members who wish to participate in the annual eLearning Institute and commit to develop and teach a quality online course. The institute is delivery in a fully online format.
The QCC eLearning Institute is a Professional Development Program designed to prepare you for online teaching, or sharpen your skills if you are already teaching online. 
The eLearning Institute consists of two courses and the internal QM course review.

Introduction to Blackboard – This asynchronous course will serve as a first step into your online teaching experience using the Blackboard Learning Management System. This course will provide you with an overview and introduction to the core facets and major tools of Blackboard. 

Introduction to Online Teaching – Participants will complete a series of synchronous webinars and asynchronous assignments. The course will help participants to get started with the development of a high-quality online course. A major portion of the course will be done in Blackboard but some assignments may require participants to use other QCC-licensed applications. In addition, other professional development opportunities may be offered to help faculty improve their online teaching strategies and make their online courses a successful experience for our students.

Internal QM Course Review Process (Optional) –  After a successful completion of the two training courses, participants will have the opportunity submit their new online course for an internal evaluation based on the QM Standards. Participants will have the opportunity to work closely with an Instructional Designer or Faculty Mentor to ensure the development of a high-quality online course. A Course Reviewer will schedule a Pre-Review conference call with the participant (Course Representative) to explain the details of this process. For more information contact Denis Bejar at DBejar@qcc.cuny.edu
Using the Online Library Resources
Digital Media
The library subscribes to a streaming video service called Kanopy.
Other Information
The library has access to additional types of information, including business and census data, newspapers,
Research Help
The library offers guidance to doing research for your classwork. A good place to start is with our Research Process guide. It can be found at: http://academicworks.cuny.edu/qb_oers/14
Citation Help
The library offers guides to help you create your citations. They can be found on the library's website.
Modern Language Association (MLA)
American Psychological Association (APA)
American Sociological Association (ASA)
Additional Information for Faculty
All of the above resources available to students are also available to faculty.
Embedded Librarians
A librarian can be included in your online class. The types of services you require will depend on the content of your class and the resources needed by the students to complete their classwork.
This can include:
Added to your class as a student: allows communication with you as well as other students, through the discussion board and wikis.  
Added as a librarian: allows for the above and access to adding content and the ability to see the class roster.
Added as an instructor: allows for all the rights as the faculty member.
Library Instruction
The library offers information literacy for online classes. However, it is contingent on the content of the course, any research based assignments, and how much involvement the instructor would like from the librarian. If you are interested in including an information literacy component as part of your online course, please contact Prof. Leslie Ward (lward@qcc.cuny.edu)
New Accessibility Training on Blackboard

When you login to your Blackboard account, you will notice a new Accessibility Training tab. The Tab represents CUNY's continuous commitment to making content accessible for the entire CUNY community, including those with various abilities.
This tab contains access to a fully online, seven topic, self-paced Blackboard Accessibility Training Course. The course was created by CUNY Faculty at the School of Professional studies for CUNY Faculty. In the course, faculty are taught how to make online courses and materials accessible to all students. The course commences by introducing faculty to the concepts and design skills related to accessibility and Universal Design for Learning. Faculty are then instructed on how to apply the principles of accessibility and universal design to teaching and learning. Finally, faculty learn the skills necessary to harness Blackboard's inherent accessibility as well as the skills needed to create and develop accessible Microsoft Office and PDF documents, multimedia and materials from publishers.
In the Accessibility training tab, there is also an eight module video training series for content developers. The video training series focuses on making websites and documents compliant with American Disabilities Act (ADA) accessibility guidelines.
This tab also points users to general accessibility information about CUNY and Blackboard accessibility, providing contact information for those with questions or comments about accessibility. The content of this tab will continue to grow as more accessible training content is developed and published, as part of CUNY's ongoing commitment to provide its faculty with the best training on creating accessible material and making accessibility an inherent part of its culture.