Are You Ready For eLearning?
eLearning Readiness Course - Are you Ready?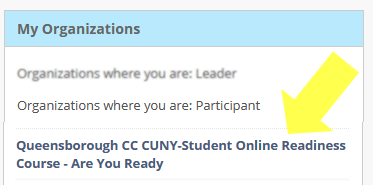 The Office of Educational Technology is happy to announce that the "Are You Ready?" course is now available to all our QCC students. The course is listed under "My Organizations" module on the Blackboard Home page. While the course is likely to be most useful to first-time freshmen who have the least familiarity with Blackboard, the course material could also be beneficial to any student who might need a refresher. With this in mind, Are You Ready? has been set up so all students may access the course, including continuing and transfer students, students in pre-college programs such as College Now and Early College Initiative, and students in pre-matriculation programs such as CUNY Start/Math Start.
As always, please do not hesitate to contact the Office of Educational Technology at bbsupport@qcc.cuny.edu with questions or concerns.
Are You Ready? FAQs:
How can I access this course? Login to Blackboard. The course is listed under "My Organizations" module on the Blackboard Home page.
What does Are You Ready? cover and how is it delivered? Are You Ready? consists of six short modules that cover an assessment of a student's readiness for online learning, an overview of online learning, technology requirements and basic technology proficiency, use of Blackboard, and online etiquette. Each module ends with a short quiz, and each quiz must be successfully completed before a student can move on to the next module.
How long does the course take a student to complete? Most students can complete the course in 30 to 45 minutes.
Are all student required to complete this course? Students are not required to take this course. However, we strongly recommended all students to complete this course before the beginning of the Fall semester or during the first week of classes.