Message from the President
Message From The President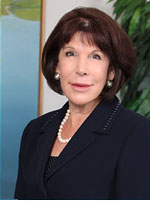 May 2014
Another successful academic year at Queensborough will end on a high note at the college's 53rd Commencement Ceremony, to be held on May 30. Among the graduates in the Class of 2014 are some 2,000 students who exemplify ambition, dedication and scholarly talent. Their triumphs are the result of hard work and the tireless support of their outstanding faculty mentors.
First, I am extremely proud to share the news of a recent alumna, Yueting Chen, who graduated with an Associate degree in Liberal Arts and Sciences from Queensborough in January 2014. She is the recipient of a Jack Kent Cooke Foundation Undergraduate Transfer Scholarship. This competitive scholarship—the first of its kind awarded to a Queensborough student—provides up to $30,000 per year to top community college transfer students seeking to complete a bachelor's degree. It is the largest private scholarship for community college transfer students in the country.  Yueting is currently a junior at Stony Brook University, and in addition to her course work in microbiology she is conducting research in genetics. She plans to continue her studies, apply to medical school and pursue a professional career in education or pediatrics.
Several professors at Queensborough were key players in guiding Yueting towards earning the Jack Kent Cooke Foundation Undergraduate Transfer Scholarship. They are her mentors, Drs. Paris Svoronos of the Department of Chemistry, who sparked her interest in the sciences; Emily Tai of the Department of History, who nominated her for the award; Raji Subramaniam, Department of Biological Sciences and Geology, who mentored her during the application process; and, Adjunct Lecturer James Geasor of the Department of English, who lent many hours assisting her with essay revisions and the complexities of the multi-phased scholarship application process.
Chemistry student Sandy Enriquez's remarkable success continues to be recognized. She has been offered several prestigious summer internships and has chosen to participate in Princeton University's Research Experience for Undergraduates Program at the Center for Mid-InfraRed Technologies for Health and the Environment. At Queensborough, Sandy has completed more than 32 credits of Honors classes, has conducted group tutoring, served as President of the Chemistry Club and is currently the President of Phi Theta Kappa. It is such achievements as these which often result in exceptional opportunities and outcomes. Congratulations to Dr. Paris Svoronos of the Department of Chemistry who mentored Sandy in her undergraduate research,  her presentations in various American Chemical Society Conferences, and a host of other distinctive scholarly endeavors. Sandy will graduate this spring.
Another soon-to-be graduate, Weiwu Li, won second place for his life sciences poster presentation in the Cell and Molecular Biology category at the 2014 Sigma Xi North Eastern Regional Conference held on April 26, at SUNY College of Old Westbury. He competed alongside approximately 30 community college and senior college students from the tri-state area. His project was titled: Screening the Saccharomyces cerevisiae genomic library for genes involved in copper induced cell death.  The research was conducted under the mentorship of Dr. Nidhi Gadura of the Department of Biological Sciences and Geology with a grant awarded to Dr. Gadura from the Copper Development Association. Funds for students to present at the conference were made possible by the QCC National Science Foundation (NSF) Queensborough Bridge Grant. Weiwu will continue his studies at Stony Brook University where he will study marine biology.
For the third year in a row Queensborough students participated in the Undergraduate Research Symposium at Columbia University on April 20 and for the last three years have presented the largest number of poster presentations. Out of a total 22 accepted submissions, fifteen were by Queensborough students. This achievement by our freshmen and sophomore students is particularly significant since the competing presenters, many of whom were juniors and seniors, came from institutions such as Johns Hopkins University, Cooper Union, The University of Southern California, and Syracuse University. Our student presentations were based on research conducted at Queensborough or during internships at Stony Brook University, Binghamton University, The Food and Drug Administration and the New York City-Division of Environmental Protection. Congratulations to our outstanding faculty who selflessly sacrificed their time and spring break to mentor students preparing for such an important event: Dr. Nidhi Gadura, Department of Biological Sciences and Geology; and, from the Department of Chemistry, Drs. Jun Shin, Derek Bruzewicz, Paul Sideris, David Sarno, Soraya Svoronos and Pedro Irigoyen. Additional thanks are extended to Drs. John Buoncora and Kee Park from Electrical Computer and Engineering Technology.
On the faculty side, I have the pleasure of congratulating five colleagues who were awarded the Chancellor's Research Fellowships for Community College Faculty. They are: Dr. Aranzazu Borrachero, Department of Foreign Languages and Literatures; Dr. Jonathan Cornick, Department of Mathematics and Computer Science; Dr. Megan Elias, Department of History; and, Drs. Andrew Nguyen and Monica Trujillo, Biological Sciences and Geology. The Chancellor's Fellowship Award allows tenured faculty release time to pursue their research projects.
Finally, some 200 students—including guest presenters from Kingsborough Community College—participated in the Tenth Annual Honors Conference on May 9. The event, which featured hundreds of abstracts from a variety of academic disciplines, provides the proper intellectual environment for our students to present their wonderful scholarly achievements. I am deeply grateful to the many faculty mentors whose contributions were invaluable to the students and to the conference itself.
One of the hallmarks of excellence at Queensborough is its ongoing commitment to research and nurturing the intellectual growth of both faculty and students. These intrinsic values are demonstrated time and again by the achievements of all who choose to pursue their academic ideals
Warm regards,

Dr. Diane B. Call
President