Message from the President
Message From The President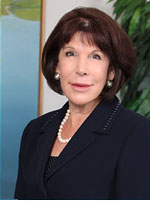 April 2013
One of Queensborough's biggest events of the year is approaching on April 25 - our annual Partners for Progress Gala, an opportunity for friends and colleagues to celebrate the College and come together in support of student scholarships and our prized cultural centers. Through scholarship funds raised at the Gala, even more students are given an opportunity to attend Queensborough and pursue their dreams of a college education.
Three long-time members of the QCC and Queens communities will be honored at the Gala as our 2013 Partners of the Year: Alumni Partner Joseph R. Ficalora '67, President and CEO of New York Community Bancorp, Inc.; Community Partner Dong Chan Kim, President of Korean American Civic Empowerment; and Campus Partner John Kuitwaard, President of Metropolitan Food Services.
But the Gala salutes all Queensborough partners, especially our students, who are building solid foundations for their futures and preparing for great things.
For example, Hia Abdel was a determined student who began her studies in 2009 in our Education Academy. With her associate degree in Early Childhood Education, she transferred to New York University with a full scholarship. She will graduate this May from NYU with a dual degree in Childhood General and Special Education and expects to begin this fall at Columbia University's Teachers College in a special education graduate program for hearing and speech impaired children.  In a note of thanks to her Academy adviser, Renee Rhodd, Hia wrote "I wouldn't have been here, or be going where I'm going, without QCC. I'm so thankful!"
We are also proud of Sandy Enriquez, a second-year chemistry student, who was chosen for this summer's Chancellor's Education Pipeline Biomedical Research Award Program at Stony Brook University. Sandy will work full-time in the laboratory of the Department of Neurobiology and Behavior. Last summer, she interned at the Department of Environmental Protection, analyzing water samples for coliform and excessive chlorine. Sandy is an integral part of our campus community, working as a tech fee student and conducting group tutoring sessions under STEM grant funding.
Hia and Sandy are two examples of students who set the bar high, and prove that they can meet and surpass those expectations. As Queensborough Community College continues to launch students into promising and prosperous futures, we invite you to join in their success stories.
Warm regards,

Dr. Diane B. Call
President