---
Welcome to the Queensborough Community College
Biology, Chemistry, and Geology Scanning Electron Microscopy Page

July 2007. Drs. David Sarno and Moni Chauhan from the Chemistry Department and Roland Scal from the Department of Biological Sciences and Geology were awarded $70,844 by the National Science Foundations Major Research Instrumentation program to acquire a tabletop scanning electron microscope for undergraduate research in materials chemistry and geological science. The instrument was installed in November 2007.

July 2008. Drs. Roland Scal, Moni Chauhan, and David Sarno were awarded $60,453 by the National Science Foundations Major Research Instrumentation program to purchase an X-ray microanalysis unit to attach to the scanning electron microscope (SEM). This unit will allow detection and qualitative analysis of elements from sodium to uranium. The unit uses energy dispersive spectroscopy (EDS) to detect characteristic X-rays generated from the sample specimen. These X-rays are generated during normal SEM analysis. Thus the technique is non-destructive and can be applied to any specimen placed in the microscope. The unit should be of great use to identify metals, minerals, and gems, and will have applications in nannotechnology and chemistry. We are hoping to have it available by December 2008.

Currently Professor Scal is studying freshwater cultured pearls. Much of the preparation is done in our facilities using a our hard sample thin-section preparation lab and until recently most of the analytical research using X-ray microanalysis was done at the NYU School of Dentistry, Dept. of Biomaterials and Biomimetics. We now have both imaging and analytical capabilities for microanalysis on campus.



Gemology Research

The SEM has allowed gemological and geological analysis to become in-house. At present, we are investigating the growth of Chinese freshwater cultured pearls by using hard sample preparation techniques to section and otherwise examine the internal growth of the pearls. Pearls are composed of nacre, a biomaterial composed of both calcium carbonate (mineralized material) and conchiolin (a protein). Insight into pearl composition and structure will lead to a better understanding of how: growth time, environmental changes, and other factors influence the morphology and quality of pearls.




The illustration below shows the growth layers created by variation in nacre (mother-of-pearl) composition as the pearl grows in a Chinese freshwater potato pearl. The pictures were taken using backscattered electron imaging that creates contrast as a result of compositional/density variation in samples. Picture A shows 3/4 of a halfed and polished potato pearl. Picture B shows a closeup of calcium carbonate plates from the location shown on A that compose the outer pearl layers. These outer pearl layers are very lustrous and contrast with inner layers of the pearl picture C that lack good luster. The arrows in B & C point toward the pearl's center.

Our New Equipment Enhances Our Ability to Analyze Geological Samples

One reason that we can get good backscattered (BSE) images is that we how have the capability to coat with carbon. Carbon is a atomic element number 6, and its relatively light weight means that it has little contrast attenuation compared to the gold-palladium coatings we used in the past. The NSF supplied the funds to purchase a Cressington carbon evaporator that coats same for SEM/EDS analysis giving them conductivity (as does gold-palladium) with little effect on BSE or chemical microanalysis useing the EDS system. Below, in the section by John Scott of the NYCF you can see EDS spectra taken on our instrument.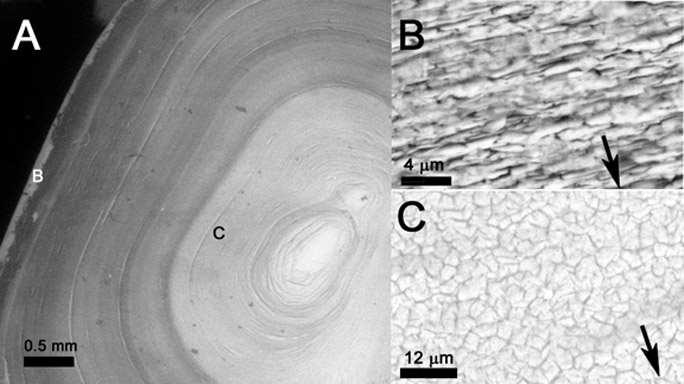 Recent Research

Recent Geology & Gemolgy Research; Year 2011 and 2012

The Acquisition of the EDS system allows further use of the SEM in mineralogical topics. Gemological and geological samples can be better identified using elemental analysis. EDS is well suited to analysis of small samples and poses only minor dangers of damaging sample.

Investigating a Bio-oxidant for Adjustment of Copper Alloys' Weather Patina

John Scott, BA, MA, MBA, MA-CAS, President, New York Conservation Foundation, Inc., has done research using our sample preparation facilities and our SEM/EDS facility. The following Adobe Acrobat file was created from a Power Point slide show was presented in 2010 as part of John Scott's research. Click this link to view the Adobe Acrobat and see some images of patina on outdoor sculptures and EDS analysis of a new cleaning process that Mr. Scott is developing for use on cultural hertitage objects.
A New Method for Conserving Weathered Surfaces of Copper and Bronze-Presented at the "BRONZE CONSERVATION
COLLOQUIUM 2012" State Academy of Art & Design, Stuttgart, Germany June 22nd & 23rd, 2012
by John Scott
New York Conservation Foundation, 261 Fifth Avenue, Rm 2000, New York, NY, 10016, United States of America

Click this link to view the Adobe Acrobat (SEM and EDS was done at Queensborough Community College)

Links

David Sarno, Chemistry, PI SEM Grant
Moni Chauhan, Chemistry Co-PI SEM
Roland Scal, Biological Sciences and Geology, PI EDS Grant





You can e-mail me by clicking on the ICON (photograph of the mineral tourmaline) below...
Roland Scal