Welcome Student Veterans
Queensborough Student Veterans Association (QSVA)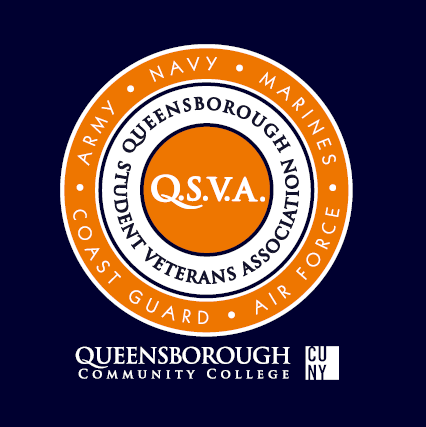 Instituted during the Spring 2006 semester as the Veterans Club, this group emerged as an active club during the Spring 2009 semester and was renamed the Queensborough Student Veterans Association (QSVA). The QSVA is open to all Queensborough Community College students. 
     The mission of this group has been to improve and expand veterans' services here at Queensborough. Although the goals of the group are determined by its members each semester, our primary goal has been to assist veterans returning from service with their transition to college life.  
     The QSVA is primarily a social outlet for its members, but it also provides a forum for the exchange of information such as the availability of educational assistance, health benefits, financial perks, and referral information.  
     Students interested in learning more about the QSVA should contact the Office of Military and Veterans Services and the Veterans Center staff via email at veteransservices@qcc.cuny.edu or go to https://www.facebook.com/qccveterans. 
     In the Fall of 2013, the Student Veterans Association strengthened its connection with the local, state, and national community by becoming an approved chapter of Student Veterans of America or SVA. Please visit the Student Veterans of America Website for more information. http://studentveterans.org/index.php/chapter/directory/1994-cuny-queensborough-community-college 
Meetings Times/Location:
     -Please monitor your Tiger mail for meeting updates
| | |
| --- | --- |
| QCC/SVA President: Bobby Lopez  | QCC/SVA Vice President: Gullit S. Etienne  |
| QCC/SVA Senator: Craigh Hollis  | QCC/SVA Advisor: Edwin Gonzalez & Robert Kueper |