Central concepts in religious thought, such as God, faith, and immortality; problems of religious knowledge and revelation. Problems connected with the relation of theology and philosophy discussed with reference to selected medieval, modern, and contemporary texts.
All work in this course is conducted online through computers and the internet. There are NO class meetings with the professor..
OBJECTIVES:
To enable a student to:
Become familiar with a variety of the worlds living religions and be able to compare and contrast some of their features

Have some understanding of the findings and theories of the sciences concerning religion and the current status of the relationship of science to religion

Have an understanding of the traditional arguments based upon reasoning for the existence of a deity, a supreme being and the weaknesses and values of those arguments

Have an understanding of the traditional arguments based upon experience for the existence of a deity, a supreme being and the weaknesses and values of those arguments

Have an understanding of arguments for the existence of a soul and theories of the after life along with an understanding of their weaknesses

Have a critical understanding for the nature of religious language

Have a critical understanding of the relationship of reason to faith

Have an understanding of the relationship of Religion to ethics, the foundations of the moral order for any society

Have a critical understanding of what the essence of religion might be

Develop skills of critical analysis and dialectical thinking.

Analyze and respond to the comments of other students regarding philosophical issues.
COURSE ACTIVITIES :
The course is divided into 9 Modules, and each module contains 1 or more chapters from the textbook. Modules may last from one to three weeks.
The following learning activities apply to each module:
1. Read the assigned textbook material.
2. Respond to discussion questions submitted by the instructor. At least once in each discussion forum in the module.
3. Create and submit a discussion question about the material. At least one in each module-a student led discussion.
4. Respond publicly to some or all of the questions submitted by other students.
5. Reply to students who respond to your question and responses.
Virtual Seminars/Discussions
In every module you will find a "Virtual Seminar." A virtual seminar is like a class discussion. Here, for each module and topic, you are expected to reply to questions from the instructor, you will ask a "critical thinking" question about some topic in the chapter, get responses from other students, and reply to those responses. Here too, you will answer the questions posed by other students, and they will reply to your answers. You are welcome to keep up this "virtual discussion" as long as you wish. The idea here is for each student to join in and to lead a discussion with the other students about some important issue introduced in the chapter.
This is the heart of this course as far as your instructor is concerned. It is here that the process of philosophy will be in evidence. It is here that you get an opportunity to DO PHILOSOPHY. This is the component of this online course that fosters the dialectical process of inquiry that is the heart of Philosophy.
Essays:
Upon completion of each module there is an essay question. These questions are my way of testing your understanding of the texts and Virtual Seminar/Discussions for that module. You will know what the questions or topics are at the start of each module. You should post your essays during the 2-day "window" that is established for submissions, not before. Unlike your responses to the discussion questions posed by me and the other students, you will submit your essays just to me, not to the whole class. You need to consider these essays as "take-home, open-book essay exams", which require well-organized, thorough responses.
Talk with the Professor
In each module there is a "Talk with the Professor" area. Here I will ask questions which each student should respond to. Also, you may ask me questions, which I will respond to. Most often, I expect these questions (mine and yours) will be related to the discussions or the textbook - but nothing is "off-limits."
Ask a Question
Most documents you will be reading On-Line have a "Ask a Question" button at the bottom of the page. When you use this button, it creates a discussion thread that the professor and other students can participate in. It is the equivalent of "raising your hand" in the classroom.
GRADING REQUIREMENTS:
1. Class Participation & Discussion: 16%
2. Critical Analysis Essays (Papers) : 52%
3. The Quality of Your Discussion Threads: 32%
REQUIRED TEXTS:
There is a great deal of material presented in an online textbook. All of the assignments can be completed by reading the materials on the internet. However, if a learner prefers to have a printed paper text in addition to or instead of the online material, the two texts below are very good. The Philosophy text by Pojman would be good for everyone in the course to have.
Schmidt, Roger, et al; Patterns of Religion, Belmont, CA.:Wadsworth, 1999. ISBN 0534 506 496
Patterns of Religion
by Roger Schmidt, Gene C. Sager, Gerald Carney, Julius J. Jackson, Kenneth Zanca, Albert Muller, Julius Jackson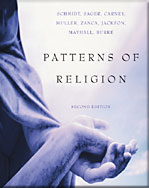 Our Price: $67.95 Used Price: $43.75

Availability: This title is currently on back order. We expect to be able to ship it to you within 3-5 weeks.
Pojman, Louis P. Philosophy of Religion: An Anthology. 3rd ed. Belmont, CA: Wadsworth, 1998.
ISBN 0-534-52956-9
Philosophy of Religion: An Anthology
by Louis P. Pojman (Editor)
Our Price: $75.95 Used Price: $42.50

Availability: This title usually ships within 4-6 weeks. Please note that titles occasionally go out of print or publishers run out of stock. We will notify you within 2-3 weeks if we have trouble obtaining this title.

Click here to order from Amazon.co

Try also these sites for the lowest prices available

ecampus.com
d. The other readings are the lessons and students contributions to the class in the discussion areas and the professor's contributions to those discussions.
WORKLOAD:
In a fifteen-week semester (Spring and Fall) the workload for this course would be 9 to 12 hours per week. This includes all the reading, writing, and dialogue with your instructor and fellow students.
In the SUMMER SESSION with only 8 weeks from May 29th to July 23rd the workload in effect is double that of the regular 15-week semester. It requires 12 to 24 hours per week to successfully complete this online course.
This requires a serious commitment on the part of the learner. You can access the course at any time from any computer with an Internet connection. However, you must put in the effort, the labor, the work needed to meet the course requirements and obtain a passing grade.
The course can prove to be a lot of fun for those who take it seriously and keep up with the workload. For those who are unable to put in the time and fall behind the course could prove to be quite horrible.
PLEASE consider carefully what time you have available for this course. If you decide to continue on in the course, I look forward to "seeing" you online.
RELATED WEBSITES:
Website for Professor Pecorino (alternate entry into course on this site)
http://web.acc.qcc.cuny.edu/SocialSciences/ppecorino/Default.htm
Website to learn about CUNY ONLINE http://cunyonline.cuny.edu/
And for STUDENT ORIENTATION go to site and click on "Students"
Take the "Crash Course in Using Course Info" Blackboard site: http://www.blackboard.com
QCC ONLINE Help Desk
Before contacting the Help Desk, please be sure your browser is Netscape or Internet Explorer 4.0 or better. This will clear up many problems, including JScript errors. If you have any Blackboard questions please contact : BBSupport@qcc.cuny.edu at the ACC in Library floor 1. If you have QCC EMAIL questions or problems call 718 631 6273 in the IT department in Administration Bldg. 3rd floor.
==========================================
INSTRUCTIONS for PREPARING and SUBMITTING WRITTEN ASSIGNMENTS
Composing your assignment
Normally, you should compose your response using your word processor or on paper. This will give you the opportunity to revise, proofread, and spell check. When you have completed your assignment document be sure to spell check it .
Make sure to read the directions for each assignment carefully for details, due dates, and any thing else that may be specific to the assignment.
Format For Submitting Written Assignments Whether you are in an ONLINE CLASS or a traditional class or a hybrid class
· By EMAIL ppecorino@qcc.cuny.edu Do not send attachments!!! Copy and paste your text from the word processor directly into the message window of the email. In the subject line put: first name , last name, class ## , section, assignment#
Evaluations
The evaluation for your assignment will appear directly in your document or with your document when returned to you by email or returned directly to you by the instructor. Evaluations are private and can only be read by the student and professor.
OBSERVE THE DUE DATES!! Check on due dates on the CLASS CALENDAR:
All written assignments may be revised and resubmitted. At least one assignment must be submitted in draft form and then after receiving the instructor's comments and suggestions, it is to be revised and resubmitted for formal assessment. Students may resubmit their revised assignments no more than three times before the final day of class.
Criteria for evaluation of the written assignments is given under Course Information document titled " How you will be evaluated." Other students will not view student written assignments anywhere within the course. Students may send drafts of their work to their classmates and discuss them through the use of email. They may discuss the assignment itself within the course in the Student Café.
In all cases the written work must show evidence of the author's awareness of the materials made available in the online textbook and through the related Internet links found in the Online Textbook that is part of the course. Proper citations and accreditation are to be made evident in the body of the work. The learners are required to provide evidence of research and scholarship and to AVOID Plagiarism! You may use the text of others but you MUST provide the source of any materials and words that are not your own. see Academic Integrity
Accessing Blackboard and ePermit through the CUNY Portal
INSTRUCTIONS to enter the BLACKBOARD Discussion Board Website
The QCC Blackboard server can be accessed at: https://portal.cuny.edu/portal/site/cuny/index.jsp?epi-content=LOGIN
INSTRUCTIONS to enter the BLACKBOARD Discussion Board Website
The QCC Blackboard server can be accessed at: https://blackboard-doorway.cuny.edu/
If you have trouble entering the BlackBoard class site it might be because you have failed to send me an email with your email address and so you are not entered into the course. In that case be sure to notify me by email ppecorino@qcc.cuny.edu
If you have trouble entering the class it might be because you have a last name that is more than 12 characters long. The email and Blackboard system are set for a maximum of 13 characters. If this is the case please go to the ACC (QCC Library Building first floor) or contact them at 718-631-6624
INSTRUCTIONS FOR QCC EMAIL aka TIGERMAIL !!! Log In and Passwords
If you have difficulty logging on call 718-631-6348 Monday thru Friday between 9am and 5pm. For questions regarding your Tiger Mail account send an email to: EMAILHELP@Tigermail.qcc.cuny.edu
What if I don't have an Email account?
You must have an Email account to take an online course. QCC provides you with an Email account. You can access your student email account at http://tigermail.qcc.cuny.edu
Having trouble accessing your student email? View the Student Email Login Procedures.