Office of the President
A Statement From The President
One Year After Sandy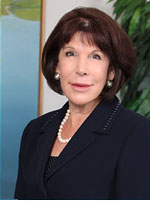 October 29th, 2013
Friends,
On this day last year, Superstorm Sandy made landfall in our area. Within the first twenty-four hours of the storm, it became painfully clear that many lives would be changed forever. Superstorm Sandy showed all of us the true power of nature and the devastating effect this power can have.
But Superstorm Sandy also showed us the power we have as people in a community to reach out and help each other when any of us are faced with unimaginable loss. In the immediate aftermath of Sandy many faculty, students, staff, and alumni at Queensborough answered the call to action by assisting those in the areas hardest hit, including the Rockaways, Staten Island, and parts of Long Island. To cite just a few of the many ways QCC offered help to those in need: In the months following the storm, the college community, with the support of generous grants from our QCC Fund members and the Robin Hood Foundation, raised tens of thousands of dollars to help students severely affected by the storm to continue their education; many departments conducted fund raising activities and food drives to assist the victims of the storm; members of the Nursing Department, along with students, traveled to hard hit neighborhoods to assist with clean up and provide much needed services to families whose homes were damaged; faculty and students from the Business department also organized a holiday toy and book drive to benefit children in the Rockaways; Barnes & Noble provided $600 worth of children's books; and physics professor Dr. Dinah Moché donated 200 copies of her book, If You Were an Astronaut. As impressive as this partial list may be, and as proud as we are of our efforts, there is still much work to be done.
Although Superstorm Sandy left an indelible impression of the power of nature, it also left us with an unforgettable reminder of the power of human kindness. Unfortunately, many New Yorkers are still recovering from last year's tragic storm. So let us forge ahead with renewed hope and a strong commitment of support to one another and the entire community as we continue to rebuild together.
Warm regards,
Dr. Diane Bova Call
Interim President

opens in a new window