Message from the President
Message From The President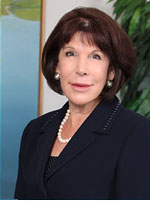 October  2013
The momentum at Queensborough—in the areas of academic achievement, grant awards, faculty honors and exceptional events—continues to rise.
Last week, more than 160 people attended the exhibit opening, "Their Brother's Keepers: American Liberators of the Nazi Death Camps," at the Kupferberg Holocaust Resource Center and Archives. The exhibit features photographs depicting the liberation of concentration camps across Europe.  It was an especially moving occasion for me because my father, First Sergeant Charles Francis Bova, was one of the American Liberators who bore witness to the devastation of the Holocaust. Among the distinguished guests at the event were survivor Irving Roth and his liberator, Rick Carrier, who was the first soldier to enter the gates of Buchenwald Concentration Camp. Their powerful stories will be archived at our resource center, a repository that is dedicated not only to the remembrance of and education about history, but also the need for all of us to safeguard human rights.
Imparting knowledge of different life experiences inspires empathy for other cultures. This is certainly true for Jules Allen, Art and Design, who recently published another notable book of photographs, In Your Own Sweet Way, in collaboration with Faustino Quintanilla, Executive Director of the QCC Art Gallery.  Professor Allen's compelling black & white images are of people, landscapes, and household settings throughout Africa.
Congratulations are extended to Dr. Paris Svoronos, Chemistry, who was honored by Phi Theta Kappa, the National Honor Society, for his ten years of service as campus advisor to QCC's Lambda Sigma Chapter.  Along with his co-advisor, Dr. Emily Tai, History, Dr. Svoronos has led the development of our chapter to the benefit of high achieving students who have gone on to even greater academic success and service to their communities.
I also applaud QCC's faculty who have received three CUNY Community Collaborative Incentive Research Grants. They are Dr. Paul Sideris, Chemistry; Dr. Julia Rothenberg, Social Sciences; Professors Nick Dizinno and Jeffrey Schwartz, Engineering Technology; and Drs. Azita Mayeli and Daniel Garbin, Mathematics.
The National Institutes of Health (NIH) has provided a five-year, $1,547,614 continuation grant to Dr. Patricia Schneider, Biological Sciences and Geology, for QCC's highly successful Bridges to the Baccalaureate Program. The project, partnering QCC with Queens College and City College, has had much success training and graduating under-represented minority (URM) science students, thus facilitating student transfers to baccalaureate programs in biomedicine or behavioral science. The program's goals are closely aligned with those of the NIH and will serve to increase the number of URM students in the medical/behavioral science pathway, a key factor in reducing health disparities.
The National Science Foundation awarded Queensborough $171,000 over a three-year period. The grant acknowledges QCC as the lead institution in collaboration with Allegheny Community College in Pennsylvania and St. Mary's College in Maryland. The project is funded through the NSF's Transforming Undergraduate Education in Science Technology Engineering and Mathematics (STEM). QCC's project team will focus on student-driven activities in the laboratory. Dr. Jun Shin, Chemistry, is principal investigator along with co-PIs, Dr. Sasan Karimi and Dr. Svoronos.
Looking ahead, we are pleased to welcome Stephen Shepard, Founding Dean of the CUNY School of Journalism, who will speak on The Future of Journalism at our Fall 2013 Presidential Lecture Series on October 29. He will address the "hollowing out of the accountability of journalism so vital to American democracy," and pose the question, "What will it take for journalism to survive?"
The impetus of Queensborough's remarkable accomplishments and outstanding offerings promise continued success throughout the academic year.

Dr. Diane B. Call
President