Message from the President
Message From The President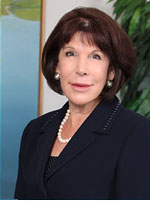 March 2013
The calendar and the thermometer still say winter, but spring is approaching and you can feel the energy on campus. Queensborough is bustling with good news and new faces.
This semester, we enrolled 35 percent more freshman and transfer students compared with the same time last year. Also, CUNY Start doubled enrollment from last fall, registering 100 students. CUNY Start provides intensive preparation for students who have been accepted to college, but are not quite ready for college-level work. Of the 50 CUNY Start students who began in the fall of 2012, nearly all are now enrolled in degree programs.
Congratulations to biology majors Marjorie Morales and Daniel Novoa. They are the first community college students to be accepted into the Exceptional Research Opportunities Program (EXROP) of the Howard Hughes Medical Institute (HHMI). This program provides undergraduate students with summer research opportunities and encourages them to pursue careers in academic science. Two years ago, Queensborough was first community college in the country to become an associate member of the Science Education Alliance at HHMI. The students' winning applications were strengthened by their studies there and the guidance of Professors Patricia Schneider, Urzula Golebiewska, and Raji Subramanian.
We also pay tribute to the many members of our faculty and staff who received or pursued grant awards this year, and acknowledge the hard work of students who took part in grant-funded programs. A few highlights include a grant awarded to biology professor Dr. Susan McLaughlin from the National Science Foundation Research in Undergraduate Institutions; Dr. Amy Traver from social sciences and John Buoncora from engineering technology received CUNY Diversity Project Development Funds; and many outstanding nursing faculty secured grants to support future nurses now in training at QCC.
I am extremely proud of our faculty, staff, and students who embody the dedication, ambition, and intellectual vitality that helps us lead the way in community college education.
Warm regards,

Dr. Diane B. Call
President