Message From The President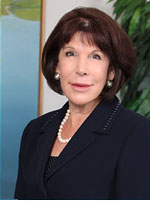 Colleagues:
I am delighted to welcome everyone to the start of another promising spring semester, and I wish to extend special thanks to our enrollment management team and faculty for contributing to another successful winter session and spring enrollment effort.
Joining our community this semester are several distinguished faculty and staff: Katherine Griefen, Art and Design; Dr. Punita Bhansali, Biological Sciences and Geology; Professor Carmen Reid, Nursing; Dr. Gabriel Lataianu, Social Sciences; Jesse Pena, Academic Computing Center; Joseph Seiter, Engineering Technology; John Triolo, Public Safety Director; Jon Hochberg, Athletic Director; and Belinda Delgado, Esq.,Title IX Officer. I have had the opportunity to meet with each of these individuals and I am pleased that they share our commitment to providing our students with a high-quality education.
Queensborough is nationally renowned for our rigorous academic programs, strong and engaged faculty, focus on pedagogical research and development, and student-centered learning environment. These strengths are highlighted in a recent study by The Equality of Opportunity Project, published by The New York Times that recognizes our institution as a substantial economic mobility engine for the local community.
Specifically, the study found that our institution provides access to higher education for children from the bottom 20 percent income level, and ranked us 8th out of 690 two-year colleges nationwide in overall student economic mobility. In addition, we ranked 29th nationally in potential for students from lower socioeconomic situations to become prosperous adults. The study also points out that the top twenty-three percent of Queensborough graduates who were part of the study were found to have an income in the top 20 percent nationwide when in their thirties. These facts remind us that the collaborative efforts and excellent work of our College community provide our students with infinite possibilities.
Recently, I met with members of the New York State Legislature in Albany and asked for their continued support of our students, faculty and staff. I was pleased that Queensborough received recognition for its impressive outcomes during a meeting of the Senate Standing Committee on Higher Education.
Our accomplishments in the fall semester were many and included a record number of seventy-six faculty from across virtually all academic areas who successfully applied for PSC CUNY grants. In addition, Professor and Chairperson Stu Asser, Engineering Technology, and Denise Ward, Vice President for Pre-College, Continuing Education and Workforce Development, were awarded a $1.3 million grant from America's Promise to support students pursuing careers in technology.
Dr. Sharon Lall-Ramnarine, Chemistry, with colleagues from the STEM, Social Sciences and English departments, held the College's first and very successful Undergraduate Research Day. While our STEM faculty have long been recognized for their excellent work in mentoring students in undergraduate research, it was very gratifying to see such a strong presence of posters from students with their mentors from Social Sciences, English and Music. I was pleased to support this effort and hope this is a collaboration that continues to engage even more disciplines on campus.
I applaud our faculty for inspiring such an amazing growth in the area of undergraduate research. Because of their mentorship and dedication to our students, we continue to receive recognition as one of the premier community colleges in the country participating in successful undergraduate research.
Our competitive Nursing program once again has the highest scores for the 2016 NCLEX pass rates among all CUNY two-year and senior colleges, surpassing even New York University, Binghamton and Columbia University.
In other outstanding news, our women's Volleyball team, after winning the CUNYAC Championship, went to the nationals where they did extremely well. We are very proud of their outstanding achievement.
Last month I saw the wonderfully innovative production of anOTHER, which won top honors at the prestigious Kennedy Center American College Theatre Festival (KCACTF) regional conference. The superlative play was written by Professor Julian Jimenez in the Speech, Communication and Theatre Arts department in collaboration with his student ensemble.
Queensborough is considered a model in creating a supportive learning environment that encourages students to succeed in becoming performers, technicians, costume designers and directors. As a result of our long track record in this area, Queensborough became one of only eight community colleges out of 189 accredited theatre programs nationwide to receive certification for the Associate in Science Degree by the National Association of Schools of Theatre, the sole accrediting body approved by the Department of Education (DOE). Currently, Queensborough's Theatre program is one of only eight community college's in the country and the only CUNY college to receive national certification!
Closing out the fall semester, some 800 students graduated in January, showing that students are staying to complete their degrees before either furthering their education or beginning their professional careers.
I am also pleased to announce the completion of phase one of the planned two-phase Science Atrium project. As planned, the first phase has provided a much needed larger dining space as well as a popular social meeting space, and a convenient location for students to study and collaborate on scholarly work. As initially planned, phase two will begin in early 2018 and will feature a total enclosure of the courtyard.
This spring we will continue our strong support for faculty development. Interim Vice President of Academic Affairs Sandra Palmer and Dean Kathleen Landy, as well as other faculty leaders from the Center for Excellence in Teaching and Learning (CETL), inspired 300 faculty to participate in High Impact Practices and many more to join workshops on topics of importance to colleagues and students.
On a final note of great importance, I am proud to serve as President of one of the most diverse colleges in the nation.I stand by CUNY Chancellor James B. Milliken's recent statement that there are few institutions that have done more to help this country benefit from immigration than The City University of New York, and I will continue to work with my colleagues from across the university and beyond to determine how best to assist those students, faculty and staff impacted by Friday's Executive Order. For more information, I encourage you to visit the University's central resource pageOpens in new window.
Best wishes for another productive and successful semester.

Dr. Diane B. Call
President