Office of Financial Services
How to Apply for Financial Aid
Step 1: Apply for FSA ID (If student is dependent: BOTH student and one parent must apply for a FSA ID.
How to create an FSA ID
The FSA ID, a username and password, has replaced the Federal Student Aid PIN and must be used to log in to certain U.S. Department of Education websites. Your FSA ID confirms your identity when you access your financial aid information and electronically sign Federal Student Aid documents. If you do not already have an FSA ID, you can create one when logging in to fafsa.gov, the National Student Loan Data System, StudentLoans.gov, StudentAid.gov, and Agreement to Serve (ATS).
Step 1: When logging in to one of the websites listed above, click the link to create an FSA ID.

Step 2: Create a username and password, and enter your e-mail address.

Step 3: Enter your name, date of birth, Social Security number, contact information, and challenge questions and answers.

Step 4: If you have a Federal Student Aid PIN, you will be able to enter it and link it to your FSA ID. You can still create an FSA ID if you have forgotten or do not have a PIN.

Step 5: Review your information, and read and accept the terms and conditions.

Step 6: Confirm your e-mail address using the secure code, which will be sent to the e-mail address you entered when you created your FSA ID. Once you verify your e-mail address, you can use it instead of your username to log in to the websites.
You can use your FSA ID to sign a FAFSA right away. Once the Social Security Administration verifies your information in one to three days, or if you have linked your PIN to your FSA ID, you will be able to use your FSA ID to access the websites listed above. For help visit the FSAID page on the StudentAid.gov site.
You may not use the same E-mail, username, or personal information for both
If you forgot your username or password, click on "Edit my FSA ID"
If you don't remember your username or password click on "forgot my username" or "forgot my password": You can retrieve your username or password with either an email secure code or challenge question. Note: if you reset your password using the challenge question option,you will not be able to use your new password for 30 minutes.
Please watch the videos below which will help explain what you need to know to create your FSA ID.
What is an FSA ID?
How do I create an FSA ID?
Step 2: Complete your FAFSA (Free Application for Federal Student Aid)
Visit: the FAFSA website opens in new window

Click: "Start A New FAFSA"

Click: "Enter your (the student's) FSA ID" and log in.

Click: Start 2019-2020 FAFSA, and/or Start 2020-2021 FAFSA for (Fall 2019 & Spring 2020 semesters)

Enter: A save key (Anything you want from 4-8 characters)

Enter: The required information on the application*

Click: "Agree", "Sign", and "Submit" after you enter all the information

Click: "Start your state application" on the confirmation page to do your TAP application**
Our Federal School Code is: 002697
*You will use the 2017 tax return for the 2019-2020 FAFSA and you will use the 2018 tax return to file the 2020-2021 FAFSA. If you and/or your parents filed a tax return, you can link to the IRS when you reach the financial information section when applying for the FAFSA. Click on "Link to IRS" ** and use the IRS Data Retrieval option.
**On the confirmation page of the FAFSA, please click the TAP link to complete the application immediately after you finish the FAFSA, you must wait until the FAFSA is processed (3-5 business days)
How to Apply for Financial Aid
Please watch the videos below which will explain everything you need to know in order to successfully complete your FAFSA application.
Financial Aid Questions? Questions about applying for Financial Aid? Get video answers below, or head to Financial Aid TV
Apply online at the FAFSA website for 2019-20 Free Application for Federal Student Aid
For your convenience, we have included the following helpful video: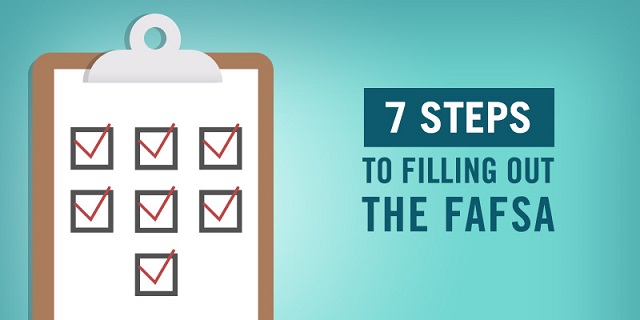 By completing the FAFSA you are applying for federal financial aid.
To apply for state aid (New York State Tuition Assistance Program) click the link on the confirmation page after you have submitted your FAFSA application. This will connect you with the NYS TAP application.

Please remember to complete both applications to maximize your potential financial aid eligibility.
Step 3: Complete your New York State TAP Application
Create: A Username and Pin Number

Click: "The 2019-2020, and/or 2020-2021 application" and enter the information

Review: Review your information on the final page then click "Submit"
Our TAP School Code is: 1407
Step 4: Need Help Applying for Financial Aid?
If you need additional assistance the Office of Financial Services is here to help! Please e-mail us if you have any questions at FinancialAid@qcc.cuny.edu.
FAFSA Completion Assistance
Visit the Office of Financial Services to use our FAFSA Computer Lab for hands-on assistance with whatever problems you might be encountering.
Location: Library Building Room 409
Hours: Monday, Thursday and Friday 10:00 – 4:00
Tuesday and Wednesday 10:00 – 6:00
Step 5: After You Apply. What's Next?
After you have completed the FAFSA you can expect to receive e-mails to your personal e-mail account from FAFSA.gov and from HESC.com to confirm the receipt of your applications.
You will also receive e-mails from the QCC Office of Financial Services containing important information about your financial aid awards or the need to provide additional information to our office to complete your application. These e-mails will be sent to your Office 365 Student Email account. Please check your QCC e-mail account regularly after you have started the financial aid application process. You can also check the status of your financial aid awards through your CUNYfirst account.
In order to access CUNYfirst, you must first claim your account. For incoming Freshman and Transfer students, once you are admitted to the college, you can claim your CUNYfirst account.
After you have registered for classes at the college, you can activate your Office 365 Student Email account as well as activate your QCC TigerID account to access on-campus resources.
If the QCC Office of Financial Services is requesting additional information that means you have been "selected for the verification process" by the US Department of Education. It is important that you reply to these requests as quickly as possible.