Commencement
Commencement Guide Graduation Requirements Faculty & HEO Information
You are invited to be part of the 56th Commencement Ceremony at Queensborough Community College! This important event is open to all students who completed their degree requirements in January 2017 or are candidates for graduation in June 2017/August 2017.
---
The 56th Commencement Exercise at Queensborough Community College will take place on Friday, June 2, 2017 on the College's Athletic Field.
To ensure the safety of all those attending our commencement exercises, all bags and packages entering the area are subject to search.
Graduation Requirements
Student Information
Graduation is a formal occasion. Graduates should wear dark shoes, dresses or appropriate suits with their caps and gowns. Note: As the ceremony takes place on the athletic field, it is suggested that graduates refrain from wearing high heel shoes.
Graduates typically wear tassels on the right front side before degrees are conferred.
Graduation stoles are permitted only for Phi Theta Kappa members. No other stoles are permitted.

NOTE: Diploma covers, not actual diplomas, are given out during the graduation ceremony. Graduates will be receiving diplomas by the end of the next semester. Notifications will be sent to students that their diplomas are ready for pick up.
USE OF CELL PHONES/MOBILE DEVICES: As a courtesy to our graduates and guests, please silence all mobile phones, tablets and any other noise-making electronic devices during the Commencement Ceremony. Absolutely NO SELFIES while walking across the stage.

For more information regarding Commencement, e-mail Commencementinfo@qcc.cuny.edu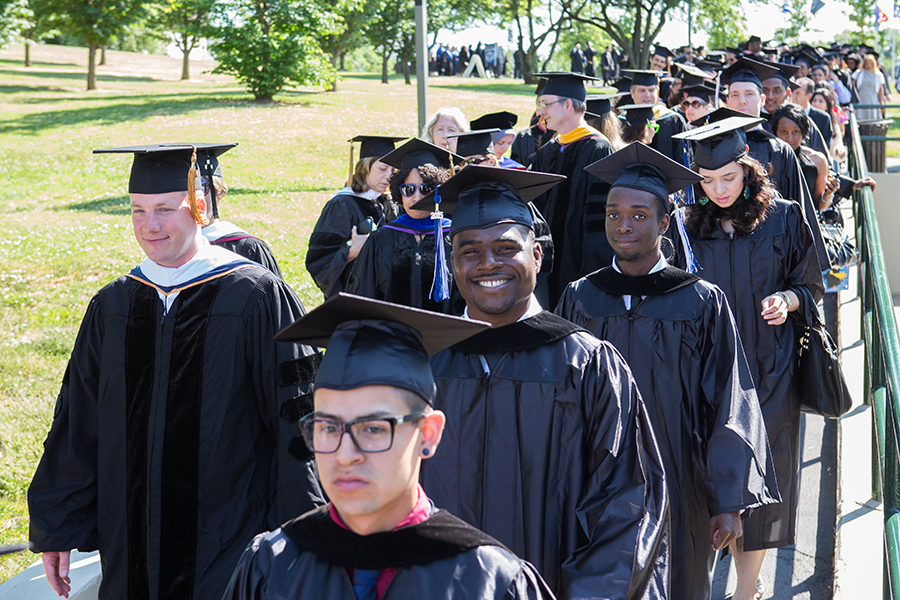 Faculty/HEO Information
The Deadline to order academic attire is:

May 1, 2017
Faculty and Non-Teaching Instructional Staff Information:
1. Order Cap & Gown
Academic attire can be ordered directly from the Herff Jones Company through the following link:
Faculty Attire
Note: If you have your own academic attire and plan to march, it is important that you notify Annette Lazaro in the Office of Student Affairs at 718-631-6314 before May 1.
2. Pick Up Cap & Gown
Friday, June 2 - 8:00 a.m. to 9:00 a.m. in the Holocaust Resource Center
3. Return Cap & Gown
Friday, June 2 immediately following the ceremony in the Holocaust Resource Center OR Return it to the vendor at your own expense!