Queensborough Art and Design Department Visiting Artist Series Presented Artist Paul Moakley
Ramsey and colleagues listen intently to Moakley's critique.
photo by Brett Kerven
3 November 2015 -- To suggest Paul Moakley "held court" last Monday evening would not be too far off the mark. Moakley, deputy photo editor of TIME magazine and guest of Professor Timothy Hull held his audience captive for well over an hour. Immediately he made himself user-friendly, announcing his roots in Queens, "I was born in Glendale" and telling of his shyness as a young person.
Read more»
---
Queensborough Art and Design Department Visiting Artist Series Presented Artist Azikiwe Mohammed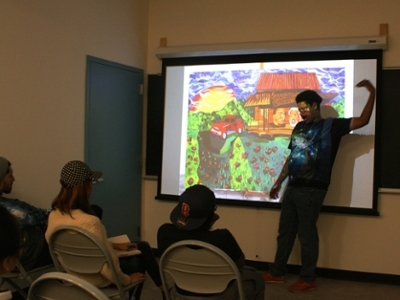 Azikiwe Mohammed captures the attention of students of Professor F. Powell.
photo by Brett Kerven
Azikiwe Mohammed was a breath of fresh air coming off the Q27 last Tuesday evening. Slightly encumbered with rucksack and digital camera he offered a swift apology for his delay and chattered amiably about his day. He had arrived at QCC by the invite of Professor Freya Powell to discuss his work with students; by all accounts he was completely charming.
Read more»
---
New Student & Faculty Exhibitions at the QCC Art Gallery
It is with great pleasure and pride that the Department of Art & Design presented a diverse array of work by a talented group of our students for the 2015 QCC student exhibition opening on April 16. In addition, for the first time in several years, the student exhibition coincides with the display of faculty work in our faculty exhibition.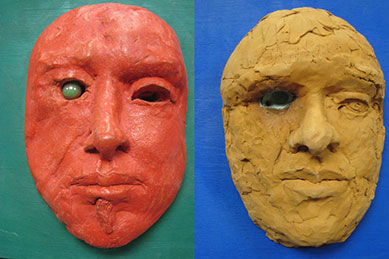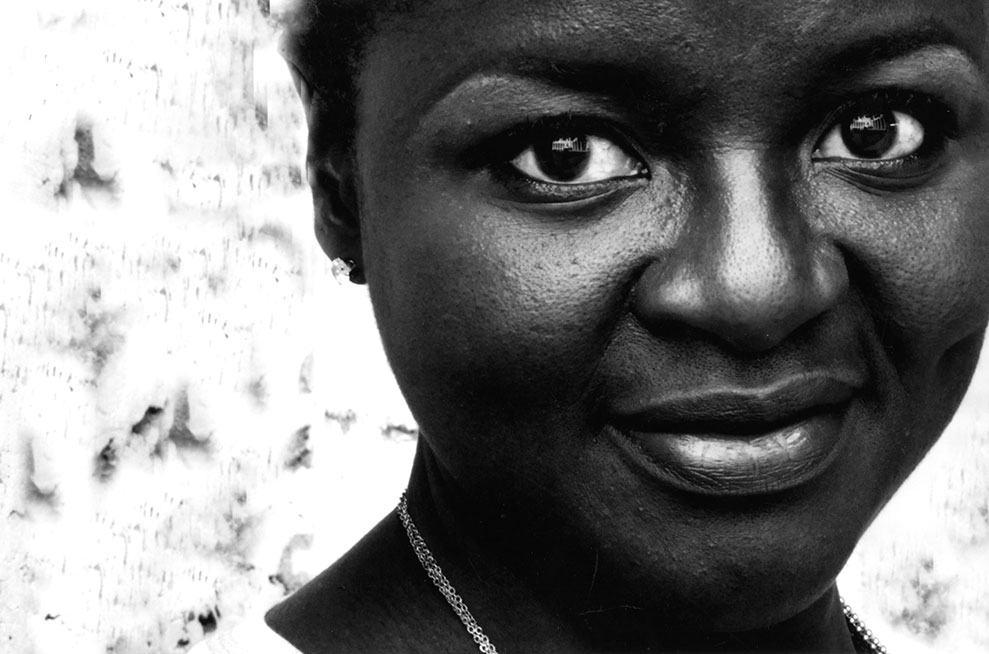 ---
Inspiring Voices: Transforming the World, Lives and Communities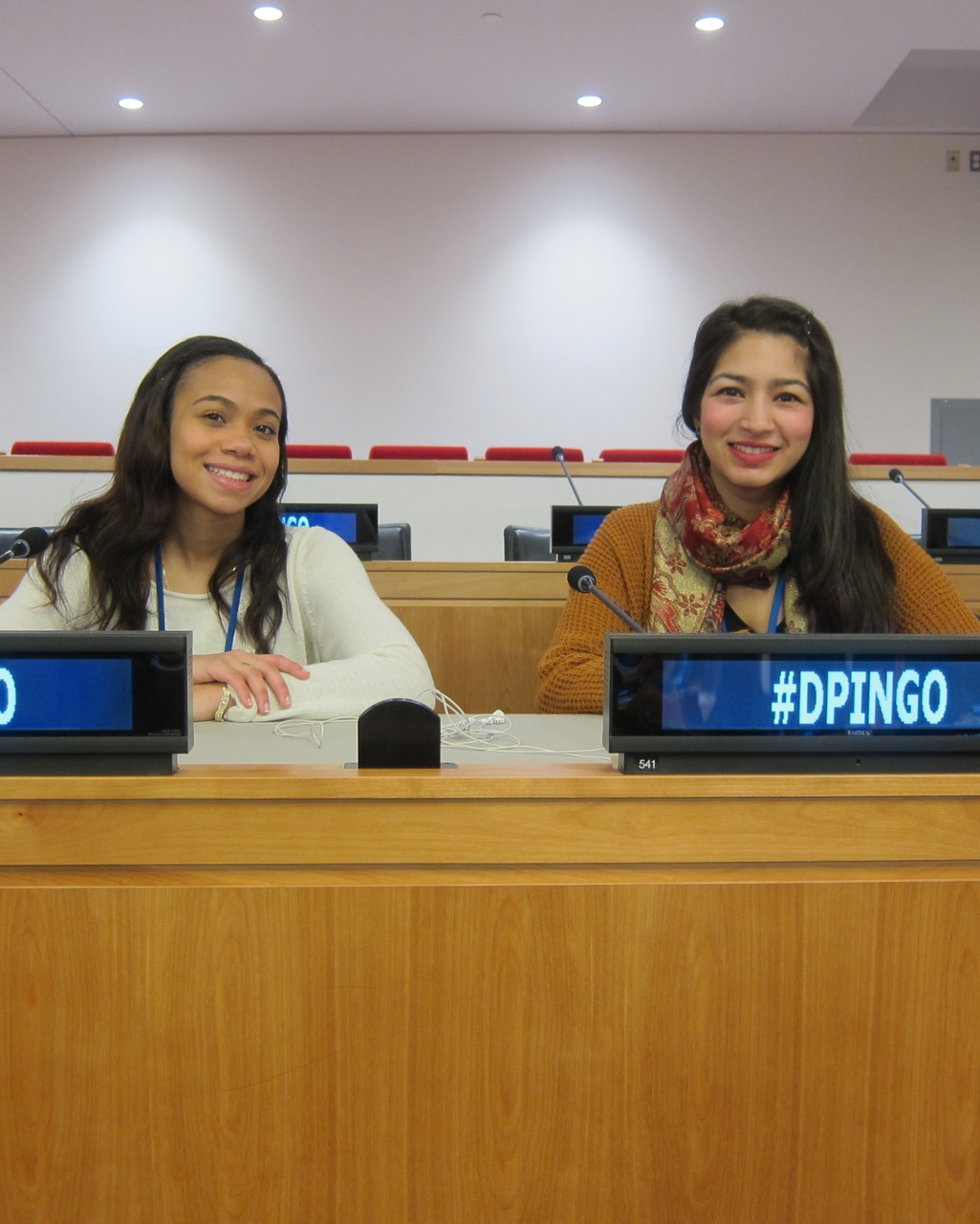 Queensborough/WCA Interns Miranda Barnes (l.) and Soha Farooqui (r.) with Professor Liz Di Giorgio. Photo by Darcy Neill
Attending the UN DPI/NGO inaugural briefing with the Women's Caucus for Art's two new Youth Representatives, Soha Farooqui and Miranda Barnes (both interns from the Department of Art and Design at Queensborough Community College, CUNY) made for a memorable and particularly inspiring day. Jeff Brez, UN DPI Chief of NGO Relations, Advocacy and Special Events, began the event with a warm welcome and a preview of the year ahead for the NGO community. He noted that this year marks the 70th anniversary of the founding of the United Nations, and quoted Secretary-General Ban Ki-moon's observations that "the year 2015 is a once in a generation opportunity. Our goal is to put people at the center, and protect our one and only planet. Our duty is to end poverty, leave no one behind, and build lives of dignity for all.
Read more»
---
New Student Gallery for the Art and Design Department

Detail of "Surrealist collage," by Xuxa Robinson.
An exciting new exhibition space opened in the Fall of 2014 in Art and Design Department. The new gallery located in the "C" Building, Room 204-A will act as an experimental laboratory for ideas and creative expression in which students can develop their talents as future artist and curators.
The gallery will be student-run, providing invaluable practical experience for students and will serve as an ongoing counterpart to the annual Art Students' Exhibition held every spring at our QCC Art Gallery.
The first show in the gallery was held at the time of it's opening and featured a variety of works in different media including collage, drawing and photography.
The Art and Design Department extends its thanks to the ongoing support of President Diane Call and VP of Academic Affairs, Paul Marchese, and the vision of the Chair of our department, Prof. Bob Rogers, plus the hard work of the craftsmen of Buildings and Grounds. This valuable space is a reality thanks to their efforts.
The department extends special thanks to Professors Kenny Yurkovitch and Malcolm MacDougall for donating their time and effort to help install the inaugural exhibit.
---
First exhibition: Between Abstraction and Figuration
Exhibiting students
Collage drawings:
Stephanie Cardona
Frank Mirabal
Aneesa Harrichandra
Dayvon Jones
Photographs
Color abstractions
Erin Mercado
Joseph Ayala
Abstract tonal drawings
Armando Vakufac
Mariel Torres
Quin Sun
Lisa Wong
Nicholas Barbery
Surreal collage
---
---