Assistant Professer Hayes Mauro's book The Art of Americanization at the Carlisle Indian School has been published by the University of New Mexico Press.  
Established by an act of Congress in 1879, the Carlisle Indian Industrial School in central Pennsylvania was conceived as a paramilitary residential boarding school that would solve the then-pressing "Indian Question" by forcibly assimilating and Americanizing Native American youth. A major part of this process was the "before and after" portrait, which displayed the individual in his or her allegedly degenerate state before Americanization, and then again following its conclusion. In this historical study, Mauro analyzes the visual imagery produced at the Carlisle Indian Industrial School as a specific instance of the aesthetics of Americanization at work. His work combines a consideration of cultural contexts and themes specific to the United States of the time and critical theory to flesh out innovative historical readings of the photographic materials.
Read the full bio here »
---
Professor Jules Allen's newest book Double Up has been published in conjunction with the QCC Art Gallery and has been featured in The New York Times. Double Up tells a personal, photographic story of life inside New York City's Gleason's Gym in the 1980s. It is a story captured and revealed by Jules Allen, an award-winning photographer with a keen eye for nuance, texture and rhythm. The book is a result of Allen's work with one of the gym's renowned boxing trainers, Bobby McQuillen who also worked with the great jazz trumpeter, Miles Davis. Jeanne Moutoussamy-Ashe provides a review of the book stating, "Jules Allen's energetic eye gives us a raw yet warm view of boxing; in all its grit, he has captured the grace."
---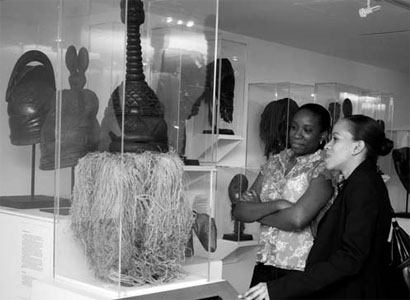 QCC Launches New Gallery and Museum Studies Program
Through Queensborough's new Gallery and Museum Studies program, our students will now have the opportunity to enter into a career in Museum Studies. The A.S. degree in Gallery and Museum Studies is fully transferable to other CUNY colleges, where a student may continue his or her studies and earn a Bachelor of Arts in Art History. The program offers students foundation courses in administration, conservation and curatorial work in art galleries and museums, and liberal arts courses necessary for the gallery and museum field. The Department of Art and Design has extensive course offerings in art history, studio art, photography, and graphic, commercial and video art, and offers curricula in art, photography, and digital art and design. For additional information, view the degree program page.
---