The QCC Fund, Inc.
The QCC Fund, Inc. - Diane B. Call, Ed.D. (Ex-Officio)
Diane B. Call, Ed.D.
President
Queensborough Community College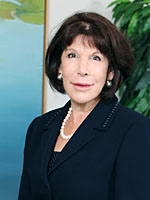 ---
The College administration is headed by Dr. Diane B. Call, who was appointed President of Queensborough Community College in January, 2013. Dr. Call, whose career spans four decades at Queensborough and The City University of New York (CUNY), has held positions that have encompassed virtually all major areas of administration and academics at Queensborough.
As Provost, Dr. Call led the Academic Affairs Division to create a student-centered learning environment in collaboration with the faculty and Student Affairs colleagues through curriculum and pedagogical innovations, academic enrichment activities such as undergraduate research, as well as instructional support and student service programs. Among her many outstanding achievements are programs for the recruitment and retention of faculty and a faculty development program for their engagement in a variety of teaching modalities, high impact activities, e-learning, academic leadership and pedagogical research in community college teaching. Her partnership with Student Affairs led to the implementation of the Freshman Academies for all full-time, first-time freshmen and the establishment of an assessment protocol to measure the success of the initiative on student learning outcomes.
Dr. Call holds a Doctor of Education degree in College and University Administration, a Master's degree in Community College Administration and a second Master's degree in Student Personnel Administration, all earned from Teachers College, Columbia University. Additionally, she holds a Certificate in Curriculum Development from Harvard University, School of Education.
Dr. Call was an Adjunct Professor at Long Island University, C.W. Post, Graduate School of Education, and an Adjunct Associate Professor at Queensborough Community College, Department of English. Her academic credentials, along with her publications and research presentations at academic conferences on at-risk students, gained her the rank of Full Professor in Student Personnel Services in 1994, having previously acquired tenure in 1978. In her years at Queensborough, Dr. Call instituted the Instructional Support Services Center and Learning Lab and has led Admissions Services, Skills Assessment Testing, Academic Advisement, the Freshman-Year Program, College Discovery, and CSTEP. She consolidated Tutorial Services and the Writing Center, substantially increasing the number of students served.
Dr. Call has served as a member of the Strategic Planning Steering Committee of the College of Aeronautics (now Vaughn College), a consultant to the United States Department of Education, Higher Education Programs' Division of Institutional Development, and consultant to the New York City Public Schools on Health Occupation Vocational Programs. She served on the CUNY Welfare Advocate Council and was a Project Participant for Change and the New Jersey Community College: the Faculty Perspective, The Center for Community Colleges, Teachers College, Columbia University.
Dr. Call is a generous supporter of the QCC Fund, Inc. Highlights among her many contributions to the QCC Fund include the establishment of the KHRCA garden in memory of her parents, Lucille and Charles Bova and the establishment and naming of the Charles F. Bova Sr. Veterans Memorial at Queensborough Community College in honor of her father. Charles F. Bova Sr. received a Bronze Star as a First Sergeant, United States Third Army, First Tank Destroyer Brigade during World War II. Of particular note, Sergeant Bova was among the U.S. Army troops who liberated the Dachau Concentration Camp.
Dr. Call, as President of the College, became an ex-officio member of the QCC Fund Board of Directors in 2012.