Dr. Nidhi Gadura
GeneticsBI-356 Dr. Gadura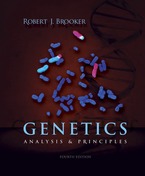 HOMEWORK ASSIGNMENTS
WEEK 9 (CH 2 MENDEL'S LAWS)
WEEK 10 WRITING ASSIGNMENT
WEEK 11 (CH 3 CHR. THEORY)
WEEK 12 (LINKAGE)
WEEK 13 (PROBLEM SOLVING)
WEEK 14 (ONCOGENETICS)
Course TEXT:
 GENETICS: Analysis and Principle  By Robert J. Brooker,  4th edition McGraw Hill
Course Objective: I hope by the end of the semester, I have accomplished teaching you the fundamental principles of genetics. Molecular genetics will be taught starting from classical discoveries and how those led to a burst of new technology and scientific tools used in the labs around the world today.  No genetics class will be complete without learning Mendelian principles of inheritance so we will save the best for last and learn Mendelian genetics by the end of the semester.
Grading Policy:     
6 Exams   -  10% each 
(Exams are 45 min each and start promptly DON'T be LATE for class)
Homework -   20% 
(Graded Online HW problems on BB due Thur – Tue every week!!)
3 Writing assignments– 15% 
(Due Weeks 4, 7 & 13 Topics announced on BB and assignments submitted via SafeAssign on BB)
Online BB Discussion Participation – 5% 
(You will be assigned a Group on Discussion Board, you are expected to log on every week, read assigned material and discuss the topic on BB)
MAKEUP EXAMS ONLY GIVEN UPON DOCUMENTED EMERGENCY SITUATIONS. Please email NGadura@qcc.cuny.edu ASAP!!