---
CHAPTER 4 - VOLCANISM (P. 81-106)
Materials extruded during a volcanic eruption include:

GASES - H2O, CO2, SO2, H2S, CH4, N2, etc. H2O in the form of steam is by far the most important and abundant gas released (50-80%).

LAVA FLOWS - which solidify to form two types of lava rock: PAHOEHOE (ropy texture) and AA (sharp-edged, blocky texture)

PYROCLASTICS - bombs, blocks, cinders, lapilli, ash

PYROCLASTIC FLOWS - giant ash clouds blown out of a great volcano, covers a great area with ash; sometimes they remain hot enough to solidify as a massive rock layer. A dense fire cloud from a volcano is called a NUEE ARDENTE. One such eruption in 1902 killed 28,000 people in the town of St. Pierre on the Caribbean island of Martinique.

LAHAR - a mudflow created by a the heat of a volcanic eruption that melts ice trapped on the top of a volcano. The cities of Tacoma, Olympia, and Seattle are built on Lahar deposits from Mt. Ranier (Washington). A lahar in Colombia killed ~25,000 residents of the town of Armano when the water from the melting ice and snow was released on the erupting volcano Nevado del Ruiz and crashed into the town without warning.
Types of Volcanoes
SHIELD VOLCANO - forms from hot mafic (generally basaltic) lava; has very gentle slopes formed from lava flows; examples include Hawaiian and Iceland volcanos - many 1000's feet high (rising from the depths of the oceans).

CINDER CONE - gassy lava creates cinders which pile up to form steep cones - typically less than 1000 feet tall.

COMPOSITE CONES - typically many thousands of feet high, form from both lava flows and cinders; examples include Mt. Fuji, Mt. Vesuvius (that erupted in A.D.79 destroying Pompeii), Mt. Ranier, Mt.St. Helens. Composite cones tend to blow themselves apart, then slowly rebuild themselves. Most volcanoes of the "Ring of Fire" region are composite cones. The molten rock that forms such volcanoes is typically andesitic (intermediate) to granitic (felsic) in composition.

CALDERA - a huge hole that forms when a massive volcanic chamber under a volcano collapses during or after a major eruption; examples include Yellowstone (WY), Crater Lake (OR); Long Valley Caldera in California is on the "most dangerous list."

FISSURE FLOWS form FLOOD BASALTS - these types of eruptions form from huge volumes of basaltic lava venting to the surface along huge fractures through the earth's crust. The lava flows cover 1,000s to 100,000s of square miles in a single eruption; examples include the Columbia Plateau region (OR and WA), huge regions of Siberia and India.
Distribution of Volcanic Activity
SPREADING CENTER VOLCANISM - volcanic regions were plates are moving apart, such as along the Mid-Atlantic Ridge, the African Rift Valleys, the Red Sea, etc.

SUBDUCTION ZONE VOLCANISM - practically everywhere around the Pacific Rim (where deep ocean trenches are adjacent to island arcs); examples include the Cascades (USA), the Aleutian Islands, Japan, Philippines, Malaysia, etc.

INTRAPLATE VOLCANISM "HOT SPOTS" - very hot "plumes" of magma rising beneath a moving plate; examples include the Hawaiian chain and many volconic islands of the Micronesia region. Also includes FISSURE BASALTS" Columbia River Plateau (mentioned above as fissure eruptions).
DANGERS OF VOLCANOES
1) pyroclastic debris can cover a landscape, kill crops and animals, collapse roofs, and even obscure sunlight. Even small volcanoes can cover large areas with ash; for instance, Mt. St. Helens erutpion of 1980 spewed ash as far east as Oklahoma. Nuees Ardentes (fiery clouds of superhot poison gas and ash moving up to 100 MPH) can kill everything in their path.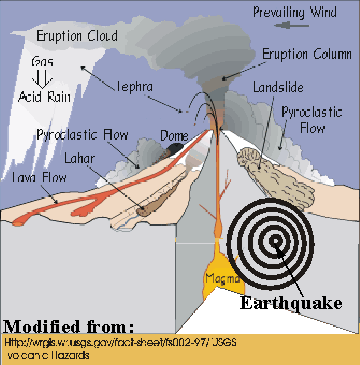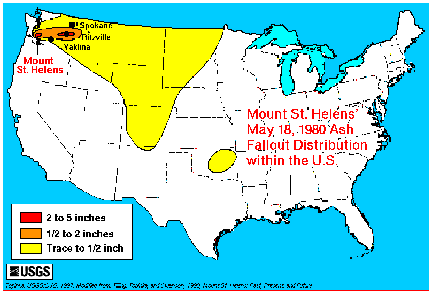 2) volcanic emissions of gases can cause acid rain; aerosols released such as SO2 coupled with fine ash in the upper atmosphere can block and reflect sunlight back into space and cause global cooling, for instance the year without summer caused by the Mt. Tamora's eruption of 1815 (see p. 85)
3) Lahars (a Polynesian word for mudflows) can kill people and destroy property and move at suprisingly rapid speeds, up to 60 MPH
4) Eruptions can trigger seismic sea waves, TSUNAMI, that can race across vast oceans (at speeds close to that of a jet airliner) and then rise with little warning to break along the shore. Waves of close to a hundred feet are known. While in the deep ocean these waves are barely detectable, when the waves get into shallow water and crest there is no time left to evacuate. The eruption of Krakatau in 1883 generated tsunamis that were responsible for most of the deaths caused by the eruption. 36,000 people died.

Click here to return to the Class Website
Suggested Sites to Visit

Ashfall Fossil Beds State Park


USGS Volcanic Hazards Program


Volcano World


Virtually Hawaii


Michigan Technological University Volcanoes Page


LANL-UNM Volcanology Program


Global Volcanism Program, Smithsonian Institution


World-Wide Volcanism, NASA


Satellite Images, NASA (includes volcanos)


Views of the Solar System, Terrestrial Volcanism


The Electric Volcano--Dartmouth College's Volcanic-information


Volcano Information Center


Volcano Information, USGS


Hawaiian Volcano Observatory


Hawaiian Center for Volcanology


JASON Project VI: Island Earth


Cascades Volcano Observatory, USGS


Mount St. Helens, Washington, USGS


Nordic Volcanological Institute, Iceland


Volcanism on the Moon


Volcanism on Io, Jupiter's moon


Volcanic Jump Station, List of web pages with Volcanos


Worldwide Weather


BBC News, Super Volcanoes